In the news: New rule called threat to wolves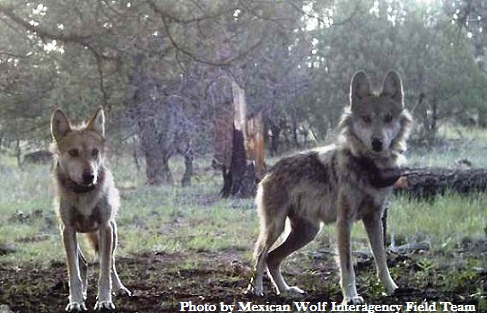 By Deborah Baker / Journal Staff Writer
The State Game Commission on Thursday unanimously adopted a rule change critics said creates another hurdle for the Mexican gray wolf recovery program.
The change requires the Game Commission to review — and gives it the power to deny — applications for permits to keep wolves and other carnivores on private land for purposes of recovery or reintroduction.
Until now, such permits have been routinely issued by the director of the Game and Fish Department without having to be cleared by the seven-member commission.
A series of speakers told the Game Commission at a meeting in Española that the new rule could hinder the Mexican gray wolf project, impede the rights of private landowners and insert politics into decisions that ought to be science-based.
The administration of Republican Gov. Susana Martinez has not been wolf-friendly; the Game Commission in 2011 reversed course and suspended the Game and Fish Department's participation in the federal recovery program.
The stated reason for Thursday's change — which will take effect in about a month — is to bring more transparency to the permitting process. There is public notice of commission meetings and agendas, and an opportunity to comment.
"We are working really hard for public input and "¦ transparency on all issues," said Commissioner Ralph Ramos of Las Cruces.
Aside from a few comments about transparency, the commission didn't discuss the rule change before the unanimous voice vote. Nor did commissioners talk about why they were voting for a scaled-back version of what was originally proposed three months ago.
Opponents said facilities that hold captive populations are important to the wolf recovery effort because the gene pool is critical to the wild population and the facilities can be used for breeding. There is a shortage of room for new wolf pups as it is, according to the Rio Grande Chapter of the Sierra Club.
One of two such facilities on private land in New Mexico is the Ladder Ranch near Truth or Consequences, owned by Ted Turner. Mike Phillips, executive director of the Turner Endangered Species Fund, told the Journal the ranch has been on good terms with the state for 16 years.
He told the commission the revised rule could affect private property rights. And because the rule covers black-footed ferrets, which are being restored to the wild on Turner's Vermejo Park Ranch, Phillips said he is concerned about the effect on that program.
"There's really a lot at play here," he told the commission.
A handful of supporters of the rule change included the New Mexico Farm and Livestock Bureau and northern New Mexico rancher Carlos Chacon, who said the wolf recovery program jeopardizes the safety of livestock and people.
*******************************************************************************************************************************

Please submit a Letter to the Editor expressing your outrage on behalf of endangered Mexican gray wolves!

One letter from you can reach thousands of people and will also likely be read by decision-makers. Tips and talking points are below, but please write in your own words, from your own experience. Don't try to include all the talking points in your letter. You can write one letter for the Albuquerque Journal and revise it slightly for the Santa Fe New Mexican.
Letter to the Editor Talking points:

I do not support the commission's power grab, which attempts to control Mexican wolf recovery in New Mexico.
Wolves help keep New Mexico lands and wildlife healthy for hunters, ranchers, and all of us.
Permitting endangered species should be the purview of biologists. This proposal only creates an avenue for political posturing that betrays science, the public trust and the moral obligation to conserve all of nature's creatures.
This rule change, which gives the Commission permission to deny the holding and use of mammalian carnivores on private land, not only threatens the captive Mexican wolf population but will also thwart the recovery of black-footed ferrets, river otters and others.
Mexican wolves are one of the the most endangered wolves in the world, with only 83 in the wild in Arizona and New Mexico.
The privately held Ladder Ranch has a captive Mexican wolf facility that is important to wolf recovery. As it stands, the future of even the captive population is uncertain because there is not enough room to house the pups that are needed to ensure that genetic diversity is not being lost. Wolf pairings that would preserve these genes cannot take place for lack of space. Every captive facility is critically important for the future of this species.
Wolves are responsible for less than 1% of cattle deaths in New Mexico — these data are from the National Agricultural Statistics Board and are based on rancher reports.
Wolves and livestock operations can coexist — livestock owners can get help from the new incentive program (called the Coexistence Council) being overseen by the US Fish and Wildlife Service office in Albuquerque.
The Commission needs to listen to all New Mexicans, not just its traditional allies.
Sportsmen's groups like Backcountry Hunters and Anglers and Southwest Consolidated Sportsmen are in support of wolf recovery because they understand that predators keep herds healthy, and that we need a complete, intact Nature, not just game animals.
Make sure you:

Thank the papers for publishing the articles.
Keep your letter brief, no more than 150-250 words.
Make your letter personal. Don't be afraid to use humor or personal stories. Include something about who you are and why you care: E.g. "I am a mother, outdoors person, teacher, business owner, scientific, religious, etc."
Provide your name, address, phone number and address.  The paper won't publish these, but they want to know you are who you say you are.
Where to submit your letters:
Albuquerque Journal: New rule called threat to wolves (Article posted above)
Submit letters to the Albuquerque Journal here.
Santa Fe New Mexican: State changes rules for keeping Mexican gray wolves
Submit letters to the Santa Fe New Mexican here.
Thank you for giving these endangered wolves a voice!
__________________________________________________________________

Click here to join our email list for Mexican gray wolf updates and action alerts.
Visit us on Facebook here.
Donate to support our work for Mexican gray wolf recovery here.