In the News: N.M. to share in $850K for wildlife (corrected)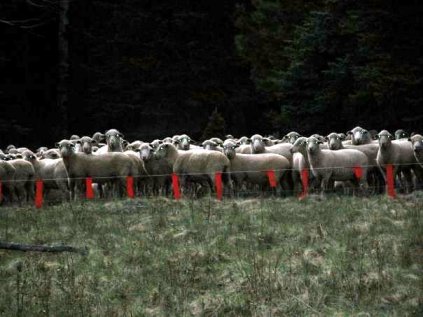 By Journal Staff
(The original version of this story incorrectly said that New Mexico and Arizona game and fish departments would each receive $20,000 to compensate ranchers for livestock depredation by wolves when it should have said that the New Mexico Department of Agriculture and the Arizona Game and Fish Department would receive the funds. The story appears in its corrected form below.)
New Mexico, Arizona and several other states will share $850,000 in grants from the U.S. Fish and Wildlife Service for programs aimed at reducing conflicts between wolves and livestock.
The New Mexico Department of Agriculture and the Arizona Game and Fish Department will receive $20,000 each to compensate ranchers for cattle and other livestock that are killed by wolves. New Mexico will get another $50,000 and Arizona will get $40,000 for conflict reduction measures.
The grants total more than $155,000 for the two states and the San Carlos Apache tribe.
Mexican wolves were added to the federal endangered species list in 1976. The 15-year effort to reintroduce them in New Mexico and Arizona has stumbled due to illegal shootings, politics and other problems.
This article was published in the Albuquerque Journal
********************************************************************************************************************************************************
Please write a letter to the editor of the Journal thanking them for the article and supporting Mexican wolf recovery.
The letters to the editor page is one of the most widely read, influential parts of the newspaper. One letter from you can reach thousands of people and will also likely be read by decision-makers.  Tips and talking points for writing your letter are below, but please write in your own words, from your own experience.
Letter Writing Tips & Talking Points
At last official count, only 75 Mexican gray wolves, including only 3 breeding pairs were found in the wild.
The wild population of Mexican wolves is at tremendous risk due to its small size and genetics.
The livestock industry has a responsibility to be good stewards by sharing public lands with wolves and other wildlife. There are many tried and true methods to avoid conflicts between livestock and wolves. The money granted to the states should be used to help livestock growers implement nonlethal deterrents, better animal husbandry practices, and other innovative tools that minimize conflict.
Wolves are a benefit to the West and are essential to restoring the balance of nature.
Polling showed 77% of Arizona voters and 69% of New Mexico voters support the Mexican wolf reintroduction.
Wildlife biologists believe that Mexican wolves will improve the overall health of the Southwest and its rivers and streams — just as the return of gray wolves to Yellowstone has helped restore balance to its lands and waters.
Mexican gray wolves are unique native animals. They are the rarest, most genetically distinct subspecies of gray wolf in North America and the most endangered wolf in the world.
Wolves generate economic benefits – a University of Montana study found that visitors who come to see wolves in Yellowstone contribute roughly $35.5 million annually to the regional economy.
Keep your letter brief, between 150-300 words.
Provide your name, address, occupation, and phone number; your full address, occupation, and phone number will not be published, but they are required in order to have your letter published.
Submit your letter here.
___________________________________________________________________________________________________________________________________________________________________________
Click here to join our email list for Mexican gray wolf updates and action alerts.
Visit us on Facebook here.