In the News: Mexican Wolves Could Lose Protections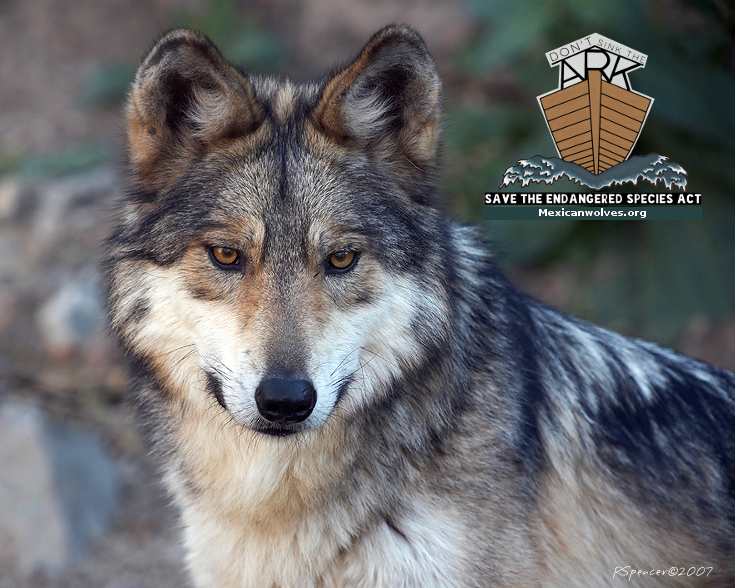 If a rider on an appropriations bill the US House passed on July 14 sticks, it'll effectively remove the Mexican wolf from the Endangered Species list. Rep. Steve Pearce, a Republican from Las Cruces, proposed the amendment, which states that none of the funds allocated for the next fiscal year to the US Fish and Wildlife Service can be used to treat Mexican wolves as endangered or threatened and that no funds can be used to implement a recovery plan outside the historic range of the Mexican wolf.
In a press statement, Pearce referenced a recent report from the inspector general that substantiated management complaints from Catron County's Board of Commissioners about the Mexican Gray Wolf Recovery Program, in the hands of a former coordinator of the Interagency Field Team. Their investigation found the Fish and Wildlife Service, which oversees the recovery program, had failed to effectively document some nuisance complaints, communicate with livestock owners and handle livestock depredations and compensation. The report also found the agency was aware of the concerns and had taken steps to address the problems.
"FWS has consistently proven its inability to manage the Mexican Wolf program in New Mexico. This is clear in the recent Inspector General report substantiating claims from Catron County that those at the top levels of the program at FWS tolerated a culture of lies, falsification, mismanagement, and manipulation of scientific data, ultimately at the cost of public trust and species recovery," Pearce said in a press release; he declared it time to give management of the program back to the states.
Even as it has rebuffed the introduction of captive-born pups into New Mexico's wild wolf population, the state Department of Game and Fish has expressed an interest in increasing Mexican wolf numbers to allow for hunting them again.
~~~~~~~~~~~~~
Take Action to Keep Wolves Protected – Stop Anti-Wolf Legislation
If some members of Congress have their way, wolves across some or even all of the lower 48 states will lose their Endangered Species Act (ESA) protections through stand-alone bills or riders on must-pass legislation.
Your help is needed now to stop anti-wolf, anti-Endangered Species Act legislation from moving forward.

Please contact your members of Congress and President Obama and tell them decisions about the future of endangered species should be based on science, not politics.
Bills or riders aimed at stripping endangered wolves of federal protections put more than wolves in peril – they threaten all wildlife and the Endangered Species Act itself. Wolves are being used as pawns in a larger effort to sink the ark that provides for the conservation of all animals.

Please contact members of Congress and the President today and urge them to oppose any anti-wolf legislation.
You will be most effective if you call personally or send an email in your own words. Whether you call or write, please be polite so that your message will be heard. Remember, you will most likely connect with a staffer who will pass your message along.

Sample message for phone calls or emails:
Start by identifying yourself and where you're calling from.
I am calling to urge [the Senator, the Congressman, the President] to oppose any legislation or riders that will weaken the Endangered Species Act or reduce protections for wolves. These decisions should be made through science, not politics. Appropriations bills and other must-pass legislation should be kept clean of anti-wolf and other controversial riders. Thank you.


Phone numbers:
· Congress members' contact information can be found at https://www.govtrack.us/congress/members.
· White House Phone: (202) 456-1111  
· White House Email: https://www.whitehouse.gov/contact/

Thank you for acting for wolves today!