In the News: Mexican Wolf Conservation Moves Forward in Arizona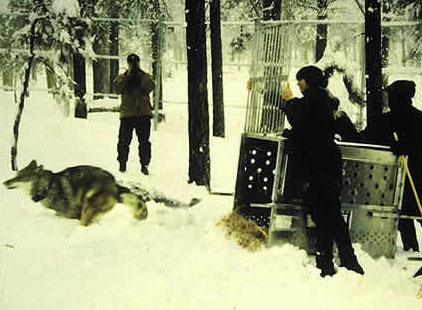 Mexican wolf conservation took a step forward this past week when an adult male Mexican wolf, designated M1133, was released in the Apache National Forest of east-central Arizona.
The Mexican Wolf Reintroduction Project's interagency field team (IFT) recently received approval from Dr. Benjamin Tuggle, the U.S. Fish and Wildlife Service's (USFWS) Regional Director, in coordination with the Arizona Game and Fish Department, to conduct this initial (a wolf born and raised in captivity) release adjacent to the Bluestem pack to replace the pack's alpha male that was illegally killed last summer.
The release was approved only after officials made sure no other male wolf had paired with the Bluestem alpha female, AF1042.
Initial wolf releases in Arizona are done in the primary recovery zone of the Blue Range Wolf Recovery Area in compliance with the existing federal 10(j) rule covering the reintroduction project. The last initial release of wolves took place in 2008.
In January 2012, during its regular monthly public meeting, the Arizona Game and Fish Commission gave the department director authority to approve a wolf release, in coordination with the USFWS, in cases when an animal is lost from the population because of an unlawful act. When a wolf is lost by any other cause of mortality, the commission, not the director, must approve the release.
The IFT closely manages all initially-released wolves to reduce the potential of nuisance-related behaviors and livestock depredations once they are free-ranging in the wild. Past experience has shown that initially-released wolves sometimes require intensive management to assist them in learning to avoid situations that may lead to conflict with human activity or with livestock that also utilize the Apache-Sitgreaves National Forests.
This news article appeared in the AZGFD's online newsletter, "Wildlife News".
This is great news!  Please take a moment and write to Director Tuggle thanking him for approving this release and encourage him to release many more wolves this year.  Let's make sure they don't wait another 4+ years before another initial release.  CLICK HERE for talking points and contact information.