In the News: Mexican Gray Wolves Gain Protection in Arizona, New Mexico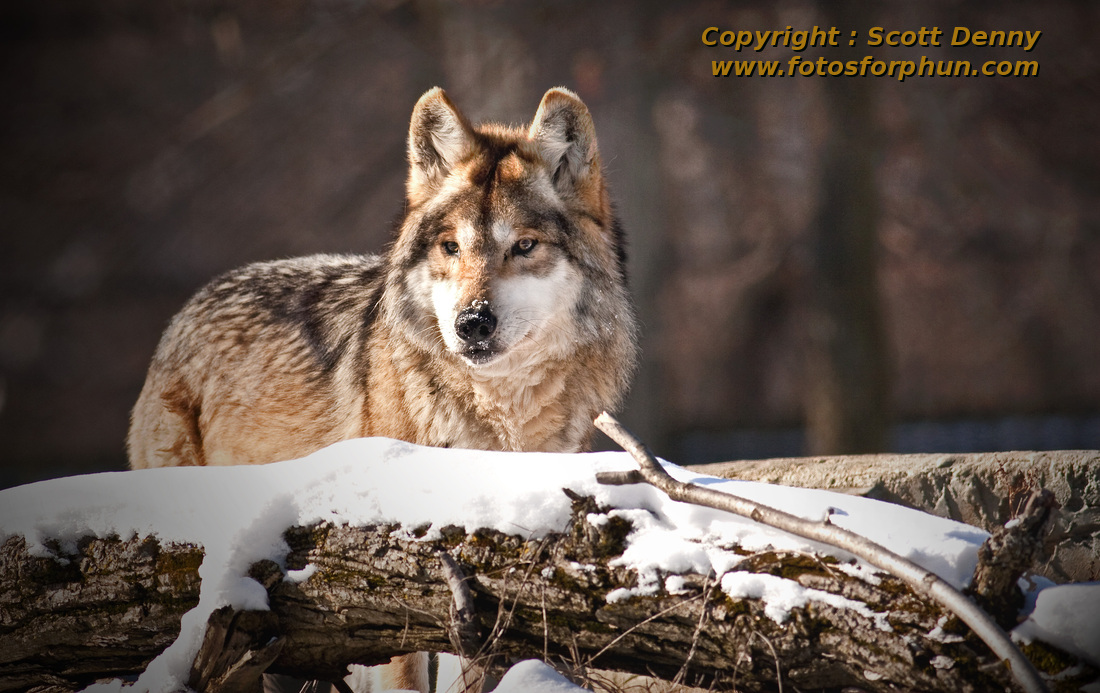 SILVER CITY, New Mexico, August 26, 2013 (ENS) — The U.S. Fish and Wildlife Service will propose increased recovery territory for Mexican gray wolves in Arizona and New Mexico and will drop plans to capture wolves entering these two states from Mexico, under two agreements reached today between the agency and the nonprofit Center for Biological Diversity.
The agency has agreed to finalize a rule to allow direct release of captive Mexican gray wolves into New Mexico and to allow Mexican wolves to establish territories in an expanded area of the two states.
"These agreements should breathe new life into the struggling Mexican wolf recovery program and expand the wolf's habitat here," said Michael Robinson of the Center for Biological Diversity. "The Mexican gray wolf is an icon of the Southwest and I'm thrilled it will have better protection."
One settlement was reached in a lawsuit challenging a permit the Service granted itself in November 2011 authorizing the trapping and indefinite incarceration of any wolves entering Arizona and New Mexico from Mexico.
The Mexican government has been releasing endangered Mexican gray wolves a several miles south of the border, and these wolves could establish territories in the United States at any time.
Under the agreement reached today, the Fish and Wildlife Service rescinded the permit and agreed that it lacks the authority to issue a permit to capture fully protected endangered gray wolves entering the United States from Mexico.
"Our agreement provides important protection to endangered Mexican gray wolves by stopping this little-known government plan to capture wolves that enter Arizona and New Mexico from Mexico," said Robinson.
The second agreement concerns a revision to a 1998 rule for managing about 75 wolves that have been reintroduced into a small area in central Arizona and New Mexico called the "Blue Range Wolf Recovery Area."
After years of delay, the Fish and Wildlife Service has proposed to change the rule to allow direct release of wolves into the Gila National Forest in New Mexico, where there is extensive habitat, and to expand the area where wolves are allowed to establish territories to include all of Arizona and New Mexico between Interstate 10 and Interstate 40.
Under the agreement this rule will be finalized by January 12, 2015.
The current rule requires that wolves from the captive pool can only be released in Arizona, and they are captured if they establish territories outside the current recovery area.
Scientists and conservationists are objecting to the fact that the rule will still require capture of wolves that cross I-40 or I-10 from the recovery area.
"We're glad the Fish and Wildlife Service is finally making much needed changes to the Mexican wolf recovery program but these changes clearly don't go far enough," said Robinson.
"The science is clear that if Mexican gray wolves are to have any shot at recovery, they must be allowed to expand and establish population centers beyond what Fish and Wildlife Service has proposed," he said. "The Grand Canyon, southern Rockies and borderlands all provide habitat where wolves could be restored. We sure hope the Fish and Wildlife Service will allow wolves to move into these areas."
This summer, members of the Interagency Field Team documented denning behavior in nine Mexican wolf packs in the Blue Range Wolf Recovery Area. As of early June, at least 19 pups in five packs were documented. As the pups get older, the IFT will attempt to capture pups, administer vaccines, and affix pup size radio collars to monitor survival.
The agency had hoped to have at least 100 Mexican gray wolves in the wild by 2006, but illegal shooting, captures in response to livestock conflicts and restrictions on where wolves can be released from captivity have blocked that goal.
The permit, now rescinded, would have allowed for more captures to respond to wolf-livestock conflicts. Robinson says research shows such conflicts are better dealt with through changes in animal husbandry that reduce the likelihood that wolves and livestock will come into contact.
Recently the U.S. Fish and Wildlife Service (USFWS) proposed changes to the rules governing the Mexican wolf reintroduction. The proposal, with one very good and many very bad changes, is very important to the future of Mexican wolves.
CLICK HERE to learn more and submit your comments to the Fish and Wildlife Service to help Mexican wolves.
_________________________________________________________________________________________________________________________________________________________

Click here to join our email list for Mexican gray wolf updates and action alerts. 

Visit us on Facebook here.