In the News: Mexican gray wolf population peaks in American Southwest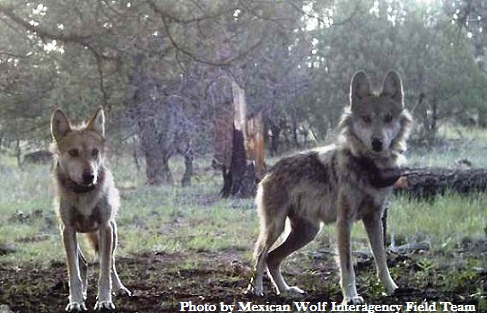 By Susan Montoya Bryan
ALBUQUERQUE, N.M. (AP) — There are now more Mexican gray wolves roaming the American Southwest than at any time since the federal government began reintroducing the endangered predators.
An annual survey released Friday by the U.S. Fish and Wildlife Service shows at least 109 wolves are spread among forested lands in southwestern New Mexico and southeastern Arizona.
The population is more than double what it was in 2010. Last year, the survey turned up at least 83 wolves.
Fish and Wildlife Service Regional Director Benjamin Tuggle described the increase as a monumental milestone that has resulted from a combination of management changes made in recent years, experiments such as cross-fostering pups among different wolf packs and more social tolerance for the animals.
"We don't have the total formula. But we have what we think are the key elements for success, so we're trying to move forward," Tuggle said during a conference call.
A subspecies of the gray wolf, the Mexican wolf was added to the federal endangered species list in 1976. It wasn't until 1998 that the first captive-bred wolves were released into the wild.
The reintroduction effort has been hampered by politics, illegal killings and other factors. Disputes over management of the program have spurred numerous legal actions by environmentalists who want more wolves to be released and by ranchers concerned about their livelihoods and safety in rural communities.
Tuggle pointed to efforts to interact more with ranchers, methods for limiting livestock kills by wolves and a compensation program aimed at easing the economic consequences of wolf predation.
"We very clearly knew from the very beginning that we couldn't get along strictly with the biology," he said. "The social tolerance part is absolutely critical."
Despite the increase in wolf numbers, federal wildlife officials are still concerned about ensuring genetic diversity. Inbreeding can cause a number of problems, including low survivability among pups.
Officials said 2014 marked one of the most successful years, with 38 pups surviving at least through the end of the year. That's compared to only 17 in 2013.
While biologists documented 19 packs between Arizona and New Mexico, there were only eight breeding pairs.
"While overall numbers are important, this is somewhat worrisome," said Michael Robinson of the Center for Biological Diversity. "This is a narrow base for the future. Breeding pairs give us insight into the potential for growth of the population."
Jim DeVos, an assistant director with the Arizona Game and Fish Department, said the latest survey is good news when considering there wasn't a single wolf on the landscape in 1997. In fact, a Mexican gray wolf hadn't been seen in the Southwest since 1970.
"It's such a tremendous step in the right direction to recovery an iconic species," he said. "This type of recovery in a working landscape is certainly incredible and it bodes well for the future."
The population now consists of four generations of wild-born wolves. More than half of them are outfitted with collars so managers can track and monitor their activities, federal officials said.
The numbers are expected to continue growing because the Fish and Wildlife Service recently finalized changes that will allow the wolves more room to expand their territory, the officials said.
This article was published in the Arizona Daily Sun.
************************************************************************************************************

Please help Mexican wolves with a letter to the editor!

The letters to the editor page is one of the most widely read, influential parts of the newspaper. One letter from you can reach thousands of people and will also likely be read by decision-makers.  Tips for writing your letter are below, but please write in your own words, from your own experience.  Don't try to include all the talking points in your letter.
Letter to the Editor Talking Points and Tips

Mexican gray wolves are beautiful, intelligent, native animals. We have a responsibility to them and to future generations to ensure their recovery.
The overall population increase reported is good news, but the wild population of Mexican gray wolves remains critically endangered and in need of additional populations, new releases to improve the population's genetics, and a scientifically valid recovery plan.
Geneticists have warned for years that the wild population needs greater diversity, but the US Fish and Wildlife Service has failed to release new wolves into the wild to improve the wolves' genetic health.
Almost 17 years after the first Mexican wolves were reintroduced, there are still only 109 wolves in the wild. More wolves are needed to stop inbreeding that researchers suggest may be lowering litter sizes and depressing pup-survival rates.
The window is closing on fixing the genetic issue, and one of the easiest steps the US Fish and Wildlife Service can take is to release more wolves from captivity, and do it now.
This population increase is because of the wolves' amazing ability to survive and breed pups. It is in spite of the Fish and Wildlife Service's failure to make needed changes and release more wolves.
Wolves are a benefit to the West and are essential to restoring the balance of nature.
Polling shows that the majority of voters support the Mexican wolf reintroduction.
Federal protections for Mexican wolves should be maintained and strengthened. Proposals by the Obama administration and members of Congress to strip gray wolves' Endangered Species Act protections nationwide could make it nearly impossible for wolves to resume their natural role in excellent habitats in Utah and Colorado that scientists say are necessary for Mexican wolf recovery.
Wildlife biologists believe that Mexican wolves will improve the overall health of the Southwest and its rivers and streams — just as the return of gray wolves to Yellowstone has helped restore balance to its lands and waters.
Mexican gray wolves are unique native animals. They are the rarest, most genetically distinct subspecies of gray wolf in North America and the most endangered wolf in the world.
Wolves generate economic benefits – a University of Montana study found that visitors who come to see wolves in Yellowstone contribute roughly $35.5 million annually to the regional economy.
Make sure you:

Thank the paper for publishing the article.
Do not repeat any negative messages, such as "livestock businesses may oppose wolves, but"¦"  Remember that this is an opportunity to get out positive messages about wolf recovery rather than to argue with the original article.
Keep your letter brief, between 150-300 words.
Include something about who you are and why you care: E.g. "I am a mother, outdoors person, teacher, business owner, scientific, religious, etc."
Provide your name, address, phone number and address.  The paper won't publish these, but they want to know you are who you say you are.
A similar article was published in the ABQ Journal. Read it and submit a letter there as well at this link.

Thank you for acting to save the lobo!
_______________________________________________________________________________________________________

Click here to join our email list for Mexican gray wolf updates and action alerts.
Visit us on Facebook here.
Donate to support our work for Mexican gray wolf recovery here.