In the News: Man sentenced for trapping, killing wolf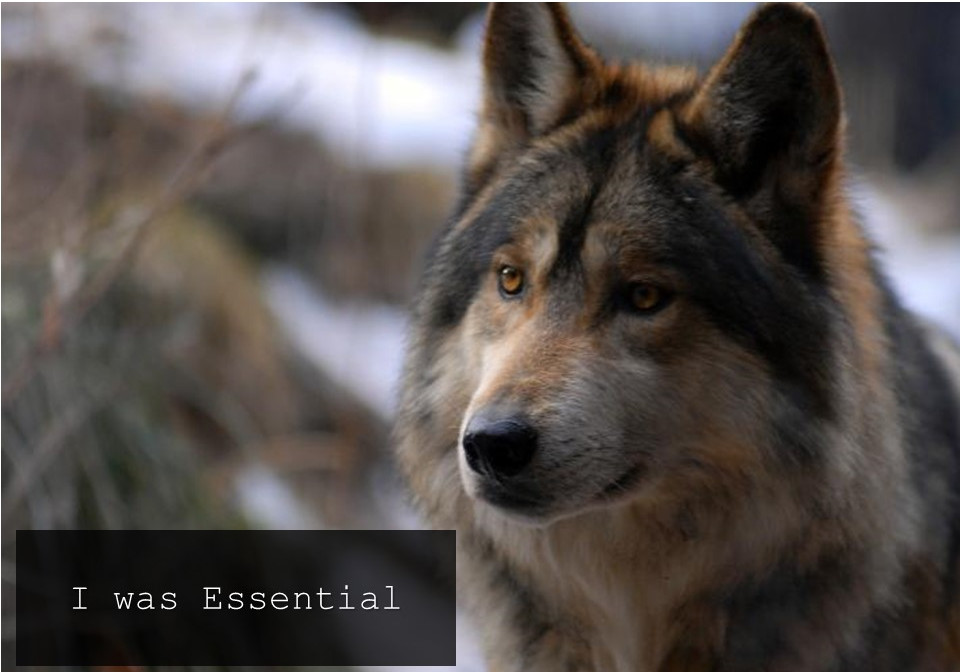 A man who admitted he intentionally trapped and killed an endangered Mexican gray wolf with a shovel in Catron County has been sentenced to one year of probation and ordered to pay restitution to the Mexican Wolf Recovery Program.
Thiessen, from Datil, admitted that in 2015 he captured a gray wolf in a trap on his grazing allotment in the Gila National Forest and hit the wolf with a shovel. He admitted knowing the animal was a gray wolf "because it bore a tracking collar, which is affixed to all Mexican gray wolves in the area," the release states. In addition to probation, Thiessen was ordered to pay $2,300 to the recovery program.
The U.S. Fish and Wildlife Service listed the wolves as endangered under the federal Endangered Species Act in 1976, prompting the recovery efforts. The agency reported in February that there were 114 wild wolves in the New Mexico and Arizona population, just one more than in 2016.
Center for Biological Diversity conservation advocate Michael Robinson on Friday said he was unaware of the Catron County case.
"I'm glad to see that one of the people responsible for the many illegal wolf killings has been caught," Robinson said. "Given that the Mexican wolf is so close to extinction, it seems the penalty should have been stiffer for this heinous and cruel act."
~~~~~~~~~~~~~~~
Show your support for Mexican wolves with a Letter to the Editor
today!
The letters to the editor page is one of the most widely read, influential parts of the newspaper. One letter from you can reach thousands of people and will also likely be read by decision-makers.  Tips for writing your letter are below, but please write in your own words, from your own experience.  Don't try to include all the talking points in your letter.
Letter Writing Tips & Talking Points
Killing a Mexican wolf is a violation of the Federal Endangered Species Act and can result in criminal penalties of up to $50,000, and/or not more than one year in jail, and/or a civil penalty of up to $25,000. A year's probation and a $2,300 fine is not justice, nor a deterent to other would-be wolf murderers.  Thiessen intentionally trapped and killed a known endangered species.
Far too many endangered Mexican gray wolves are illegally killed every year. Wolf-killers set recovery back and cause the recovery program to cost taxpayers more everytime a valuable endangered species is killed.
This is the first prosecution of a wolf-killer since 2011. More should be done by the federal government to deter illegal killings of endangered species.
Mexican gray wolves are critically endangered and every illegal killing does significant damage to the recovery of the species.
"¢ Thank the paper for publishing the article
"¢ Submit your letter as soon as possible. The chance of your letter being published declines after a day or two since the article was published
"¢ Do not repeat any negative messages from the article, such as "so and so said that wolves kill too many cows, but"¦"  Remember that those reading your letter will not be looking at the article it responds to, so this is an opportunity to get out positive messages about wolf recovery rather than to argue with the original article
"¢ Keep your letter brief, under 150 words
"¢ Include something about who you are and why you care: E.g. "I am a mother, outdoors person, teacher, business owner, scientific, religious, etc."
"¢ Provide your name, address, phone number, and address.  The paper won't publish these, but they want to know you are who you say you are.
Are phone calls more your style?
Call the U.S. Forest Service, ask them to revoke the grazing permit of 
the wolf-killer Craig Thiessen.
Adam Mendonca, Supervisor of Gila National Forest
575-388-8304
Talking Points
Public lands grazing permits are a privilege— not a right— and when permittees abuse the public trust by intentionally killing endangered species, they should lose those privileges.
The Forest Service has regulations that specifically allow it to penalize permittees for illegal actions such as these, and the agency should use its full authority here.
This is an egregious act of brutality against native wildlife on public lands. People who commit these kinds of crimes should not continue to benefit from the heavily-subsidized public lands grazing program.
The permittee intentionally trapped and brutally killed a wild born wolf the same year he took tens of thousands of dollars from the taxpayers to offset the expenses of ranching in wolf country. This is an unacceptable circumstance and he should lose his opportunity to benefit from such programs in the future.
Background
Craig Thiessen has admitted he intentionally trapped an endangered Mexican gray wolf, then killed him with a shovel on public lands. We believe Thiessen should not be allowed the privilege to graze his cattle on public lands where wild wolves live, given his heinous crime.
We've asked the Forest Service to revoke Thiessen's permit in a letter.
Your calls to ask for the same will help!
Call Gila National Forest Supervisor
Adam Mendonca: 575-388-8304