In the News: Lessons From the Brief, Lonesome Life of Echo the Wolf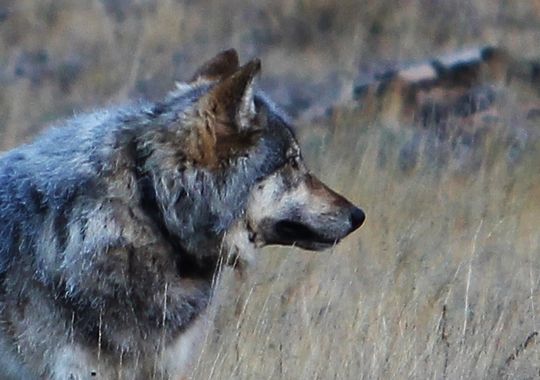 Even true stories about wolves sound like fables.
Last October, an animal appearing to be a gray wolf showed up on the Kaibab Plateau in Arizona, just north of the Grand Canyon National Park. At first, no one was sure what, exactly, the "wolflike animal" was, but if, as suspected, it was a gray wolf that had migrated from the northern Rockies, it would have been the first time since the 1940s one had set foot in the Grand Canyon. Although there were once an estimated 2 million gray wolves across the continent, humans hunted and poisoned them to the point of oblivion. But thanks to federal protections under the Endangered Species Act (ESA), since the 1970s, gray wolf populations have slightly rebounded. After reintroducing 60 Canadian wolves in Yellowstone in 1995, the U.S. Fish and Wildlife Service (FWS) estimate their population is now up to about 1,500
animals across Montana, Idaho, and Wyoming.
People reported sightings of the Grand Canyon creature through November and December and heard her howls across the forest. Scientists analyzed her poop and confirmed it: she was a gray wolf from the northern Rockies, 450 miles north, first collared near Cody, WY in January 2014. The itinerant, lonesome wolf seized the imagination of the nation and then the world. In a contest for school children, she was given the nickname "Echo."
In late December, a hunter shot and killed a wolf near Beaver, Utah, thinking it was a coyote. (The state of Utah permits

bounty hunting for coyotes

, $50 a head.) Federal agencies refused to say whether the dead wolf was the same one from the Grand Canyon.
That is, until last week. Genetic testing by the FWS confirms Echo was shot dead.
"It's like one of those old fashioned morality tales, right, you step out of your expectations, and you're punished," says Eva Sargent, southwest program director for the nonprofit Defenders of Wildlife.
That's one possible moral. Another lesson: it's hard to do right by the creatures we've harmed. The road to recovery for any species that has felt the blunt force of human civilization is fraught with danger. There are no guarantees for any of our victims. The first recovered gray wolf from Yellowstone to step foot in Colorado, back in 2004, was hit by a car on Interstate 70. In other areas, the animus is more intentional. Salmon, a small town in Idaho, sponsors a notorious yearly killfest to down as many wolves and coyotes as possible in two days. In April 2011, Congress officially removed wolves from ESA protection in many states in the West, while last week—the same day USFWS confirmed Echo was dead—15 representatives introduced legislation to remove protection from wolves nationwide.
Despite the reduction in ESA protection, Echo had actually discovered the southwestern Eden of wolf habitats.
"She found what is probably the best remaining habitat for wolves in the country, the Grand Canyon ecoregion," Sargent said. "The Mexican wolves, which aren't too far from there, they need that area as well in order to recover."
Echo plodded through dangerous territory to wind up at the Grand Canyon. Colorado and Utah serve as the large, wolfless area that separates the Mexican wolf populations in Arizona and New Mexico from their brethren in Wyoming, Idaho, and Montana to the north. In the last few years, the Mexican wolf population has slowly begun to rebound, and last November, ranchers in the southwest received their first "pay for presence" payments. These payments are part of a Coexistence Plan program that's supposed to incentivize ranchers to live alongside, rather than in acrimony with, wolves.
And maybe that is the final moral from Echo's brief and wondrous life: the need to coexist. Ellen Winchester is the owner of the Kaibab Lodge, tucked five miles in from the Grand Canyon's North Rim entrance. One afternoon in October, as she drove north to town on Highway 67, she saw Echo lope out of the forest and into a meadow. She pulled over onto the shoulder to watch the wolf.
"Getting to see something that ordinarily is hidden from the world enriches you," she says. "It makes you realize that this world is so much bigger than just you."
In the early morning a few days later, standing out front of the lodge, she heard Echo's deep-throated howl.
"Wolves in storybooks really are the bad guy, but I didn't feel that way hearing this," she says. "I've been kind of on the fence a little bit as to whether it would be a good idea to reintroduce wolves or not, but I'll tell you, when I heard that wolf howl, it was suddenly like, 'OK, she can be here. I am absolutely, positively OK with this.'"
This article was published in "Good" magazine on February 18, 2015.
~~~~~~~~~~~~~~~~~~~~~~~~~~~
Please Speak Out for Wolves
Urge your Senators and Congressional Representative to 
stand up for wolves!
Members of Congress are moving forward with attempts to reduce protections for some or all gray wolves through legislation. Even though Mexican wolves have their own Endangered Species Act listing and are not yet included in such legislation or riders, any legislation that delists wolves weakens the Endangered Species Act and  threatens all wolves.  Please urge your  representatives to protect wolves and the Endangered Species Act today!
CLICK HERE
to send a letter to your Representatives.
Thank you for giving these wonderful wolves a voice!