In the News: Huffing and puffing over wolves
By Dennis Webb
CARBONDALE — Advocates for bringing wolves back to Colorado can expect to face major opposition from ranchers, if the audience's mood during a presentation on the topic in Carbondale this week is any indication.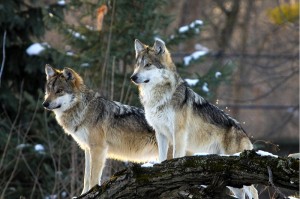 Delia Malone, an ecologist and the wildlife team chairwoman for the Sierra Club's Rocky Mountain Chapter, advocated Wednesday on behalf of the predator's return to the state. Her speech came a week before the Colorado Parks and Wildlife Commission is scheduled to consider reaffirming its decades-old position against reintroduction of wolves. The turnout for Malone's speech filled a room and included lots of cowboy hats, as Garfield County ranchers greeted her proposal with skepticism.
Carbondale-area rancher Roz Turnbull alluded to the work that has gone into arguing that oil and gas development isn't appropriate everywhere — a reference to calls by a coalition including local ranchers to prevent drilling in the Thompson Divide area west of Carbondale.
Likewise, she said, "I don't think wolves are appropriate everywhere."
She doesn't think wolves belong in Colorado, which she said is more heavily populated than states where wolves live.
But Malone contends there's room in the state for wolves and that they can restore ecological health to landscapes, something they've accomplished at Yellowstone National Park. To do that, she said, their populations need to be abundant enough and widely distributed enough.
"Colorado can support about 1,000 wolves and that's what we would like to see restored to Colorado," Malone said.
Next week, however, the CPW commission will consider passage of a resolution opposing the intentional release of wolves into Colorado — a confirmation of positions it last took in the 1980s.
The possible action is being triggered by concerns raised by Gov. John Hickenlooper of Colorado and governors of the other Four Corners states over federal recovery plans for the Mexican wolf. They oppose recovery of that gray wolf subspecies outside its historic range, and say it hasn't historically lived north of Interstate 40, which runs through Arizona and New Mexico. Malone contends Mexican wolves once lived in Colorado, Utah and Nebraska.
The CPW commission next week will consider also calling for limiting the Mexican wolf recovery effort to its historic range. And they'll consider reaffirming their support for a state Wolf Working Group's 2004 recommendations, which included that wolves that migrate into the state be allowed to live "with no boundaries" where they find habitat, and be left where found as long as they aren't causing problems.
Malone says repopulating wolves in Colorado through migration alone would take too long to address the immediate need for the state's ecosystems to rebound. And she pointed to the much-documented changes to Yellowstone National Park following the return of wolves there.
"Yellowstone was the grand experiment that showed just how important wolves could be in restoring our ecosystems, which have been abused," Malone said.
The central change wolves brought to Yellowstone was that they scattered herds of their prey, elk, which previously used to linger and feed in riparian areas, hampering regrowth of vegetation like aspen and willow.
When wolves reduced the presence of elk in these areas and vegetation recovered, it attracted other animals such as beaver and bison. Beaver ponds attracted waterfowl, amphibians and cutthroat trout.
Malone said scavengers such as ravens, wolverine, golden eagles and bear benefit from being able to feed on wolf kills. Deer do better when there are fewer elk competing for habitat and browse. Pronghorn have rebounded because wolves kill coyote, which prey on young pronghorn.
Wolves also help fight the effects of climate change by allowing riparian areas to recover and better store water, and by providing an alternative source of scavenger meat for animals that depend on winter carrion that has become more scarce with shorter winters, she said.
Wolves are an important part of the ecosystem that evolved with prey species, Malone said.
"When we remove an important part of the ecosystem that has been there tens of thousands of years, we can expect and have seen and have witnessed dramatic negative ecological impacts," she said.
She said wolves did turn to eating cattle and sheep when they previously lived in Colorado, but that was because elk populations had been largely wiped out at that time.
"In Colorado today we have about 280,000 elk, a much different situation," she said.
She also said wolves prey on animals such as livestock more when efforts to control wolves result in dominant pairs being killed. Younger wolves don't have the knowledge necessary to get a wolf family to bring down an elk. Dominant wolves also suppress wolf reproduction, and when killed more breeding pairs result, she said.
Malone said numerous approaches exist for allowing livestock and wolves to coexist. These can include providing funding in cases when ranches allow wolves on their property, and practices such as corraling sheep at night or when they're young, not turning animals out into the wild until they're older, and using trail riders and guard dogs or llamas.
Sheila Duke told the Carbondale audience she ran 1,000 head of livestock while living for 15 years next to Yellowstone, and ranchers were nervous about wolves coming in.
"It has not proven to be a huge deal. There has been very little loss from wolves — no more than from coyote or grizzly up there," Duke said.
But such assurances failed to ease local ranchers' concerns.
"Wolves are killing machines. That's what they do," said Jim Bair, whose family raises sheep. ""¦ Those wolves, when they finish the elk and the deer they're going to move on to the calves and lambs and sheep."
He and other ranchers also voiced concern about impacts to Colorado elk hunting. Bair said he's even hearing from outfitters in wolf country who can't find elk up there.
"They're calling me looking for elk here in Colorado," Bair said.
Malone contends hunting hasn't been harmed by wolves. She said that contrary to concerns that they decimate elk populations, the two species co-evolved and elk remain abundant with wolves on the landscape.
She estimated that 1,000 wolves in Colorado would eat 20,000 elk a year, compared to 38,000 elk taken by hunters in the state last year.
Carbondale-area rancher Bill McKee said Colorado's population is about 5.5 million, compared to about a half-million in Wyoming, a state of similar geographical size.
"There will be more human conflict. It will be inevitable" if wolves come here, he said.
As for the riders, fencing, dogs and other measures ranchers are having to employ in wolf country, "they are having some success at great expense. Are we willing to pay the expense?"
Marj Perry, who ranches near Carbondale, questioned the practicality of wolf avoidance strategies on a ranch with a 30,000-acre grazing permit.
"Range riders already ride eight to 12 hours a day and you don't see a fraction of the cattle. The cattle are spread out," she said.
She said that even when wolves don't kill cattle, they can stress them, cause them to run and breathe dust that can lead to pneumonia, and impede weight gain that determines an animal's value.
Alecia Evans of Carbondale told ranchers that she respects the living they make, but respects wildlife as well.
"A lot of this stuff is about tolerance," she said. "Every single thing on the planet has a right to exist. I think we have to find a way to exist together."
This article was published in the Grand Junction Daily Sentinel.
Photo credit: Brookfield Zoo
********************************************************************************************************************************************************
Join the Rally for Wolves in Denver before the Colorado Parks and Wildlife Commission meeting on Thursday.
Please also write a letter to the editor to the Grand Junction Daily Sentinel today!
Tell the Parks and Wildlife Commission that Mexican gray wolves belong in Colorado and the scientific data backs this up!


The letters to the editor page is one of the most widely read, influential parts of the newspaper. One letter from you can reach thousands of people and will also likely be read by decision-makers. Tips and talking points for writing your letter are below, but please write in your own words, from your own experience. Your letter will be most effective if you focus on a few of the talking points below rather than trying to include them all.
TALKING POINTS
New research out of UCLA demonstrates that Mexican gray wolves historically ranged into southern Colorado and southern Utah. Lobos do belong in Colorado..
This talk of historic range is hypocritical. Colorado Parks and Wildlife doesn't concern itself with historic range when they reintroduce game animals or fish wherever they want to for the convenience of hunters and fishermen.
The historic range of the Mexican gray wolf did extend into Colorado, there's new data on that.  But in any case historic range is irrelevant.  The lobos need Colorado habitats, and the Endangered Species Act allows them to be reintroduced here.
Recent polling showed that the majority of Coloradans support the reintroduction of wolves.
If Mexican wolves need to be reintroduced into Colorado in order to survive, let them in!
There are programs — federal, state and private — to help ranchers coexist with wolves and other predators.  Ranchers all over the West are learning to live with wolves, which bring benefits to the land.
The commission needs to listen to all Coloradans, not just the cattlemen and the oil men.
This attempt to keep Mexican wolves out of Colorado is just wrong — when we help wolves recover, they help make our game species stronger and our landscapes healthier.
All the benefits seen with the reintroduction of wolves to Yellowstone — the return of trees along streams, beavers, more birds, more fish — we need that in Colorado.
I understand that Mexican wolves cannot recover without a population in southern Colorado, and that they can't walk here soon enough to save themselves.   I want to help by reintroducing them.
At last count, there were 109 wild Mexican gray wolves in Arizona and New Mexico and about 25 in Mexico.  That's it.  Why won't Colorado Parks and Wildlife let Coloradans help these very endangered wolves?
Letters must not exceed 400 words. Include your name, address and a daytime phone number for verification. This information will not be made public only to confirm you exist. They do not publish pseudonyms or anonymous submissions.
Submit your letter here.
____________________________________________________________________________________________________
Click here to join our email list for Mexican gray wolf updates and action alerts.
Visit us on Facebook here.
Donate to support our work here.