In the News: Gray wolf faces new challenge: National Academies of Sciences review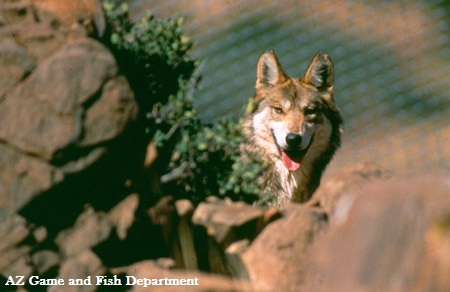 WASHINGTON — The long-running fight over the Mexican gray wolf moved from southeast Arizona to a paneled Washington conference room this week, where scientists will try to answer the question that could determine the animal's fate.
Is a Mexican gray wolf just another wolf, or is it a distinct — and endangered — breed of its own?
That's the question before a National Academies of Science, Engineering, and Medicine committee that is considering the taxonomy of the wolf — in other words, whether the Southwestern wolves are distinct enough from gray wolves in the rest of the country to be called a subspecies, based on their evolutionary history and genetic diversity, among other factors.
The committee is also charged with determining whether the red wolf, currently an endangered species in the Southeast, is a distinct species.
The committee convened for the first time Thursday and has until March 2019 — six months from now — to present its report to Congress. After that, additional research may be conducted to fill any gaps and the results of that research published by 2021.
In the meantime, committee members have to wade through pages upon pages of data and analysis compiled by scientists and environmental organizations. None of which has led to a conclusive answer yet.
"This question has been around for a long time, and why it's suddenly come to a head and that's got to be solved within the next eight months is a little bit unclear," said committee member Michael Lynch, the director of the Biodesign Center for Mechanisms of Evolution at Arizona State University.
The Mexican gray wolf historically ranged over much of the Southwest and northern Mexico, but was almost wiped out by hunting and trapping. The Fish and Wildlife Service declared the animal endangered in 1976 and in 1998 state and federal officials started a program to reintroduce the wolves in southern Arizona and New Mexico.
At the end of last year, there were at least 114 wolves in the two-state reintroduction area, according to the Arizona Game and Fish Department.
The National Academies of Sciences committee is not tasked with determining legal protections for threatened species — that's up to the U.S. Fish and Wildlife Service, Lynch said — but its decision may have an impact on whether or not the Mexican gray wolf gets additional protection.
"The taxonomy question asks what ought to be saved," said Holly Doremus, lawyer and professor of environmental regulation at the University of California, Berkeley, in her presentation to the committee.
In other words, Doremus said, the "taxonomy question" asks which groups qualify for protection under the Endangered Species Act of 1973. In order for the Mexican gray wolf to be classified as a subspecies, the committee must determine if its taxonomy is "markedly separated" from the same taxon, such as its family, class, or species.
"The critical thing becomes, if you get listed, there's supposed to be critical designated habitats set aside," Lynch said during a committee recess. "That's where all this goes eventually."
Doremus said "taxonomic line-drawing is difficult" and cannot be entirely objective. "Experts disagree about what differences, and what degree of difference, matter," she told the panel.
But Lynch said it shouldn't be too difficult to reach a conclusion about the Mexican gray wolf's classification.
"The good news on this one is that there's a lot of data, and there's more to come out," he said. "Here, you have an opportunity to make a pretty concrete decision. There's still always a judgment call, what a species is, but it helps when you have data on molecular markers."
Lynch said he doubts that being classified as a species versus a subspecies will make a significant difference to the future of the Mexican gray wolf. Still, the dialogue proves controversial at times, with some committee members showing concern for the possible implications of their decision.
Doremus said the question "should be answered in light of Congress's finding that species 'are of esthetic, ecological, educational, historical, recreational, and scientific value to the nation and its people."
"The Endangered Species Act does not draw clear lines, nor have the services," Doremus said in her presentation. "To the extent feasible, lines should be drawn with an eye not just to the evolutionary past but to the evolutionary future."