In the News: Flake pens bill to limit Mexican wolves, delist them from federal program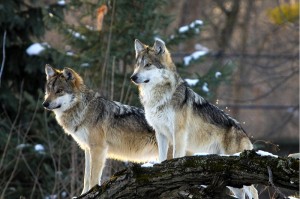 WILLIAMS, Ariz. — In a 1982 draft of the Mexican Wolf Recovery Plan, which was the standard until late 2017, the U.S. Fish and Wildlife Service (FWS) determined 100 Mexican wolves should be the benchmark for the species' survival. Now, 35 years later, the FWS places the number for Mexican wolf survival at 320, based on scientific studies.
Sen. Jeff Flake (R-Ariz.), who has long opposed placing protections on the animal under the federal Endangered Species Act, recently introduced legislation that would strip the Mexican wolf of federal protections once the wild population reaches the original benchmark of 100 animals in New Mexico and Arizona. At last count, there were 113 wolves in that range.
Flake has been critical of the recovery plan, including the update completed in November that raised the count to 320 animals, calling it a "regulatory nightmare for ranchers." Flake has supported leaving the wolves' recovery to state agencies, a move supported by some Arizona ranchers.
Patrick Bray, executive vice president of the American Cattle Grower's Association, had previously said the federal government didn't go far enough in compensating ranchers for livestock losses, and questioned why more wolves were needed, adding that it would increase the hassle for ranchers and business owners. When the recovery plan was updated in November 2017, Bray said his organization refused to support it.
"If 100 wolves was good enough in 1982, it should be good enough in 2018," he said.
Environmentalists criticized the move, however, saying a wild population of 100 animals would virtually guarantee Mexican wolves' extinction. Organizations including Defenders of Wildlife and the Center for Biological Diversity, among others, have said the new goal of 320 animals is still too low.
Michael Robinson, a conservation advocate for the Center for Biological Diversity, pointed to a study carried out by FWS in 2012 that determined two populations in Arizona and New Mexico, along with one in Mexico, was insufficient to sustain the species over time.
"By limiting their habitat and stripping protections too soon, this plan ignores the science and ensures Mexican wolves never reach sufficient numbers to be secure," he said.
Bryan Bird, Southwest program manager for Defenders of Wildflife, said Flake is trying to undo progress that conservation groups and the states have already made, including a population goal of 320 wolves. Although both Defenders of Wildlife and the Center for Biological Diversity argue that 320 wolves is still not sufficient, state officials in both Arizona and New Mexico supported it moving forward.
Despite concerns about extinction, Flake said returning management of the species to Arizona and New Mexico would protect the interests of cattlemen, sportsmen, and local governments, calling the plan a "regulatory nightmare for ranchers and rural communities."
"I plan to continue my efforts to push for real recovery that takes into account the needs of the local stakeholders most impacted by this policy," Flake said in a statement.
The bill was prosed to the Senate Jan. 4 and has been referred to the Environment and Public Works committee for further action.
As the legislation is being considered, the Arizona Game and Fish Department (AZGFD) is gearing up for its annual wolf survey, which is scheduled to start Jan. 22.
Survey flights will occur on the Fort Apache Indian Reservation, the Apache-Sitgreaves, Gila and Cibola National Forests in eastern Arizona and western New Mexico and possibly some locations immediately outside forest boundaries.
"Data collected during this annual survey and capture operation is critical to help us to determine and evaluate the overall population status of Mexican wolves," said Paul Greer, AZGFD Mexican Wolf Interagency Field Team leader. "The survey helps to chart progress in documenting the Mexican wolf population in the Southwest, and it helps us know how these animals are using local habitat."
As part of the operation, biologists will attempt to capture selected wolves born in 2017 that have not yet been fitted with a radio telemetry collar, in addition to those with collars that need a battery replacement or any wolf appearing to be sick or injured. Wolves are captured after being darted with an anesthetizing drug from a helicopter containing trained personnel.
After being immobilized, the wolf is then brought by air to a staging area for processing and any necessary veterinary care. The wolf is then returned to the Mexican Wolf Experimental Population Area (MWEPA) and released on public land.
There were a minimum of 113 wolves in the wild in Arizona and New Mexico at the end of 2016, according to a survey by the Mexican Wolf Interagency Field Team. The survey found that there were 63 wolves in Arizona and 50 in New Mexico.
The 2016 total represented a more than doubling of the population since 2009.
Show your support for Mexican wolves with a Letter to the Editor today!
The letters to the editor page is one of the most widely read, influential parts of the newspaper. One letter from you can reach thousands of people and will also likely be read by decision-makers.  Tips for writing your letter are below, but please write in your own words, from your own experience.  Don't try to include all the talking points in your letter.
Letter Writing Tips & Talking Points
The bill Senator Flake has introduced disregards the role of science in recovering endangered species, and ignores the fact that the states support the recent U.S. Fish and Wildlife Service recovery plan for the Mexican gray wolf.
Senator Flake's bill undermines the will of the people by circumventing the overwhelmingly popular Endangered Species Act.
In a 2008 poll of registered voters,

77 % of Arizonans and 69% of New Mexicans

supported "the reintroduction of the Mexican gray wolf into these public lands in Arizona and New Mexico."
In a 2013 poll of registered voters, 87% of both Arizonans and New Mexicans agreed that "wolves are a vital part of America's wilderness and natural heritage."  83% of Arizonans and 80% of New Mexicans agreed that "the US Fish and Wildlife Service should make every effort to help wolves recover and prevent extinction."
It has now been 40 years since the U.S. Fish and Wildlife Service first listed the Mexican gray wolf under the Endangered Species Act, yet the species is still struggling to remain viable.
Wolves generate economic benefits – a University of Montana study found that visitors who come to see wolves in Yellowstone contribute roughly $35.5 million annually to the regional economy.
We have a moral, economic and scientific responsibility to restore endangered species like the Mexican gray wolf.
"¢ Thank the paper for publishing the article
"¢ Submit your letter as soon as possible. The chance of your letter being published declines after a day or two since the article was published
"¢ Do not repeat any negative messages from the article, such as "so and so said that wolves kill too many cows, but"¦"  Remember that those reading your letter will not be looking at the article it responds to, so this is an opportunity to get out positive messages about wolf recovery rather than to argue with the original article
"¢ Keep your letter brief, under 200 words
"¢ Include something about who you are and why you care: E.g. "I am a mother, outdoors person, teacher, business owner, scientific, religious, etc."
"¢ Provide your name, address, phone number, and address.  The paper won't publish these, but they want to know you are who you say you are.