In the News: Fish and Wildlife announces 'aggressive' wolf release plan (which is anything but)
By Lauren Villagran / Journal Staff Writer – Las Cruces Bureau
The U.S. Fish and Wildlife Service plans to release Mexican wolves in New Mexico this year despite state opposition.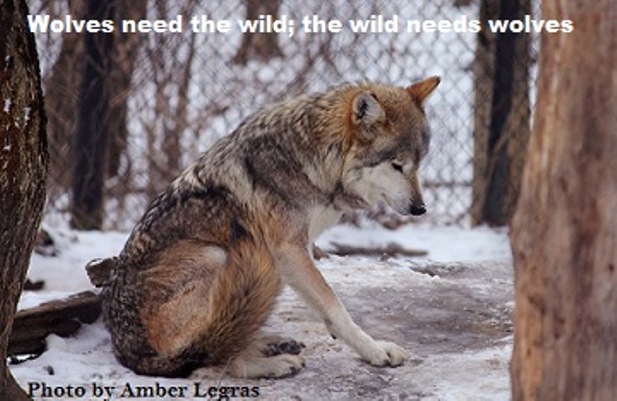 In a plan described as "aggressive" and posted Monday to its website, the service said it intends to release a pack of wolves in New Mexico and could "cross-foster" into wild packs some pups born in captivity in an effort to improve the genetic diversity of the free-ranging endangered population of Mexican wolves.
"Initial releases and cross-fostering are the preferred methods available to improve the genetic diversity of the wild population," the plan states. "The 2016 plan is aggressive by attempting as many cross-fostering efforts as logistically possible, while continuing to evaluate the efficacy of the method."
Last year saw an epic battle between the wildlife service and the New Mexico Game Commission, which after months of bureaucratic back and forth ultimately denied the federal government permission to release wolves into the wild in New Mexico.
The service subsequently stated that it would use its federal authority — trumping state authority — to carry on with the program.
New Mexico Game Commissioner Bob Ricklefs said the commission had no official reaction yet but added, "We knew it was coming."
None of the other five commissioners could be reached by phone Tuesday, and voicemail messages were not returned by press time.
A spokesman for the Game and Fish Department and Game Commission declined to comment Tuesday on the wildlife service's wolf release plan.
Fish and Wildlife Regional Director Benjamin Tuggle said the service "values the partnership we have with the New Mexico Department of Game and Fish, and it remains our policy to consult with the states in our joint efforts to recover species."
He added, "Recovery of the Mexican wolf remains the service's goal. We have a statutory responsibility and the authority to recover the Mexican wolf and strive to do so in a collaborative manner with our partners."
Last October, in a letter to Game and Fish Director Alexandra Sandoval, Fish and Wildlife Director Daniel Ashe said the agency would be unable to meet its obligations under the Endangered Species Act to recover the Mexican wolf population without releasing wolves in New Mexico.
"Given the denial of our permit applications, we are left with no option except to continue to move forward with wolf recovery efforts," Ashe wrote.
The health of the already fragile wild population of Mexican wolves has been deteriorating, advocates say.
Over the past nearly eight years, Fish and Wildlife has released four "new" wolves from captivity, meaning those who had never been in the wild. Three died and a fourth was recaptured, according to Michael Robinson of the Center for Biological Diversity.
"They haven't been releasing wolves and almost all the wolves out there stem from this one family, the Bluestem pack," Robinson said. "That is reducing the litter sizes and reducing the pup survival rate. That is a one-way ratchet toward extinction. If they can get wolves from the captive population into the wild, that will increase the genetic diversity and hopefully increase the reproductive output."
This AP articles was published in the Albuquerque Journal
*****************************************************************************************************************
Please help endangered Mexican gray wolves with a letter to the editor today!
The letters to the editor page is one of the most widely read, influential parts of the newspaper. One letter from you can reach thousands of people and will also likely be read by decision-makers.  Tips and talking points for writing your letter are below, but please write in your own words, from your own experience. Don't try to include all of the points below. Your letter will be effective if you keep it brief and focus on a few key points.
Letter Writing Tips & Talking Points
At last official count, only 97 Mexican gray wolves were found in the wild, making them one of the most endangered wolves in the world. The wild population declined 12% since last year's count. The U.S. Fish and Wildlife Service's plan to release only one family in 2016 is anemic, not aggressive.
The wild population of Mexican wolves is at tremendous risk due to its small size and genetics. The U.S. Fish and Wildlife Service's plan to release only one new family from the hundreds of wolves in captive breeding programs is entirely inadequate to the need for genetic rescue. At least five new families should be released this year. The Service's plan is actually passive-aggressive, pretending to help the wolves but again giving in to the states.
The U.S. Fish and Wildlife Service is allowing politics to override science based recommendations for wolf recovery. Right now, the Service has a plan to trap and remove a father wolf over livestock as soon as his mate has pups, without any requirement for livestock owners to actively protect their livestock from depredations.
Those who don't want to see these unique native wolves go extinct should join the Rally for More Wolves, Less Politics on April 28th in Albuquerque. More information is at mexicanwolves.org.
For almost 4 decades, captive breeding programs in the U.S. and Mexico have worked to maximize genetic diversity so that captive wolves could be released to increase the wild population's genetic health. But USFWS has released very few of these wolves.  Only four new wolves have been released in the past eight years and only one family will be released in 2016, after a 12% decline in the wild population. If this is an "aggressive plan" I'd hate to see a passive one.
Cross-fostering of pups is a risky and complex experimental technique. Opportunities for doing this successfully are extremely rare. At best, the Fish and Wildlife Service may be able to get a few new pups into wild packs. At worst, pups introduced into packs they were not born into may be killed or abandoned. A scientific genetic rescue plan will involve releasing many more adult wolves, not just cross-fostering.
Wolves are a benefit to the West and are essential to restoring the balance of nature.
Scientists believe that Mexican wolves will improve the overall health of the Southwest and its rivers and streams — just as the return of gray wolves to Yellowstone has helped restore balance to its lands and waters.
Wolves generate economic benefits – a University of Montana study found that visitors who come to see wolves in Yellowstone contribute roughly $35.5 million annually to the regional economy.
The livestock industry has a responsibility to share public lands with wolves and other wildlife. Wolves are responsible for less than 1% of livestock losses and there are many tried and true methods to avoid conflicts between livestock and wolves. Most wolves stay out of trouble.
Make sure you:
Thank the paper for publishing the article.
Submit your letter as soon as possible. The chance of your letter being published declines after a day or two since the article was published.
Do not repeat any negative messages from the article, such as "so and so said that wolves kill too many cows, but"¦"  Remember that those reading your letter will not be looking at the article it responds to, so this is an opportunity to get out positive messages about wolf recovery rather than to argue with the original article.
Keep your letter brief, between 150-350 words.
Include something about who you are and why you care: E.g. "I am a mother, outdoors person, teacher, business owner, scientific, religious, etc."
Provide your name, address, phone number and address.  The paper won't publish these, but they want to know you are who you say you are.
~~~
Take action to keep wolf father from being trapped and removed by the Government here.
Learn more about the Rally for More Wolves, Less Politics on April 28th here.