In the News: Feds Decide Not to Release Pair of Mexican Gray Wolves in Apache National Forest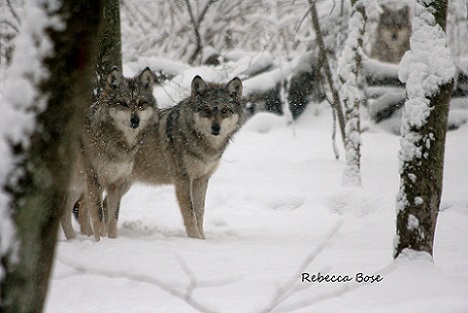 By Brandon Loomis
Wildlife officials have decided to return a pair of endangered Mexican gray wolves to captivity after their pups died in an acclimation pen where the would-be pack was awaiting release in eastern Arizona.
The so-called Coronado Pack was moved from Sevilleta National Wildlife Refuge in New Mexico to a site south of Alpine in late April.
The adult pair are being held inside a chain-link fence in Apache National Forest and will be returned to a captive-wolf center this week, the U.S. Fish and Wildlife Service said. It would not say which center.
Wolf advocates had hoped the pair would be released and be able to breed in the wild, but officials said another pair have been frequenting the area and acting aggressively toward the penned wolves — an indication that the wild wolves would make life hard for the transplanted wolves.
*********************************************************************************************************************************************
Read the US Fish and Wildlife Service Press Release here.
The Coronado Pack would have been the first pair of Mexican wolves released in Arizona
since November 2008.  This decision does not address the need for new genetics and
breeding pairs in the wild. Please help these critically endangered wolves today!

The letters to the editor page is one of the most widely read, influential parts of the newspaper. One letter from you can reach thousands of people and will also likely be read by decision-makers.  Tips and talking points for writing your letter are below, but please write in your own words, from your own experience.  We encourage you to also email a copy to USFWS Regional Director Benjamin Tuggle: RDTuggle@fws.gov.

Letter Writing Tips & Talking Points
The Coronado Pack and many more Mexican gray wolves must be released to the wild.

At last official count, only 75 Mexican gray wolves, including only 3 breeding pairs were found in the wild.
This pair of wolves would be the first pair released in Arizona in over four years and should be released right away, in a different location if necessary, and not placed back into captivity.
The wild population of Mexican wolves is at tremendous risk due to its small size and genetics.
The US Fish and Wildlife Service has decided to place three of the last four wolves slated to live in the wild back in captivity. This shows why many releases, rather than just a few, are so important to ensure the wolves' success.
The U.S. Fish and Wildlife Service should manage Mexican wolves to ensure their recovery and not risk extinction again.

Even though Mexican gray wolves were released to their native lands in Arizona and New Mexico 15 years ago, the wild population continues to struggle, not because of any lack on the part of the wolves, but because the U.S. Fish and Wildlife Service refuses to make the changes needed for these wolves to succeed.
The Fish and Wildlife Service should address the genetic  issues by ending the boundary rule that limits the wolves' movement and by allowing new releases throughout the Blue Range Wolf Recovery Area, not just in Arizona where releases are continually obstructed by AZ Game and Fish.
The Fish and Wildlife Service should increase protections for these wolves, and expedite the Mexican gray wolf recovery planning process to replace the outdated 1982 plan with a scientifically valid plan to guide recovery.
Talk about your personal connection to wolves and why the issue is important to you

Wolves are a benefit to the West and are essential to restoring the balance of nature.
Wildlife biologists believe that Mexican wolves will improve the overall health of the Southwest and its rivers and streams — just as the return of gray wolves to Yellowstone has helped restore balance to its lands and waters.
Mexican gray wolves are unique native animals. They are the rarest, most genetically distinct subspecies of gray wolf in North America and the most endangered wolf in the world.
Wolves generate economic benefits – a University of Montana study found that visitors who come to see wolves in Yellowstone contribute roughly $35.5 million annually to the regional economy.
Keep your letter brief, between 150-300 words.
Provide your name, address, occupation, and phone number; your full address, occupation, and phone number will not be published, but they are required in order to have your letter published.
Submit your letter to the papers below and please also email a copy to USFWS Regional Director Benjamin Tuggle: RDTuggle@fws.gov or call the US Fish and Wildlife Service: (505) 761-4748 or (505) 248-6920
The Arizona Republic
Submit your letter here.

Albuquerque Journal
Submit your letter here.
Carlsbad Current-Argus
Submit your letter here.
San Francisco Chronicle
Submit your letter here.
LA Times
Submit your letter here.

The Republic (Indiana)
Submit your letter here.

Thank you!
For more information, contact us at info@mexicanwolves.org.
________________________________________________________________________________________________
Click here to join our email list for Mexican gray wolf updates and action alerts.
Visit us on Facebook here.