In the News: Endangered Species: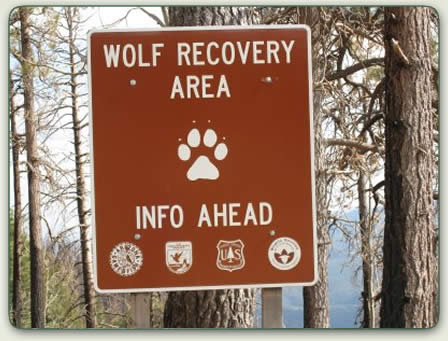 Fish and Wildlife Service officials interfered with scientists during deliberations on a long-delayed recovery plan for the threatened Mexican wolf, a watchdog group alleges in a complaint filed under the Obama administration's scientific integrity rules.
The complaint
from Public Employees for Environmental Responsibility cites email exchanges and letters that allegedly show agency interference with scientists writing recovery criteria for the Mexican wolf reintroduction program.
The criteria will be the centerpiece of a recovery plan that will replace a 1982 blueprint.
The Mexican wolf recovery team's science subgroup finished a new draft of the plan last month that includes seven recovery criteria alternatives, some of which call for three populations of 200 to 350 wolves — the current one in the Blue Range area on the Arizona-New Mexico border and two additional populations in southern Colorado or Utah.
But a week after the team finished its work, FWS Southwest Regional Director Ben Tuggle told the team its scheduled June meeting was canceled, "effectively suspending the recovery planning process," PEER says.
Tuggle said in an email that although he was "impressed" with the group's assessment, he wanted the group to take a closer look at habitat availability in Mexico and meet with researchers there this summer before moving forward. He also noted FWS would decide in September on two petitions to reclassify Mexican wolves and that the outcome "will provide the team with much-needed clarity" as it hones the plan.
In the 14-page complaint, PEER also alleges that Arizona and Utah state officials have tried to influence the recovery planning process by pressuring FWS to consider socioeconomic factors in recovery criteria along with the best available science. The Endangered Species Act allows consideration of socioeconomic considerations in developing recovery actions but not in determining recovery criteria.
"The scientific integrity of the work of the Science and Planning Subgroup of the Mexican Wolf Recovery Team has been significantly and intentionally compromised by political interference of U.S. Fish & Wildlife Service (FWS), as well as by specified state 'Partners,'" the complaint says.
The Obama administration adopted a scientific integrity policy in January 2011 that says, "When scientific or technological information is considered in decision making, the information will be as robust, of the highest quality, and the result of the most rigorous scientific processes as can be achieved within the available decision time-frame."
Furthermore, the Endangered Species Act requires FWS to establish "objective, measurable criteria" for when a species should be considered recovered and ready for downlisting or delisting.
PEER says FWS has allowed politics to interfere with the new Mexican wolf recovery planning process by encouraging scientists to lower or forgo the numeric target for recovery, responding to demands to exclude Utah and other states from suitable habitat, and attempting to prevent the science subgroup from issuing final Mexican wolf recovery criteria.
Part of the problem is that at the same time the recovery criteria are being developed, PEER says, the service has also been involved in a "structured decisionmaking" process with the states to develop a "National Wolf Strategy." That framework creates the opportunity for socioeconomic and political considerations to define the range of acceptable recovery criteria, the group says.
Beleaguered program
There's no question that the 14-year-old program to re-establish a viable population of Mexican wolves — one of the country's most imperiled mammals — is controversial.
The program met resistance from the start: When plans were first made to release seven animals into the remote mountains along the Arizona-New Mexico border, New Mexico objected and persuaded FWS to only release the wolves on the Arizona side of the state line. Ranchers and local officials in the area also voiced opposition.
Mexican wolves were all but wiped out in the United States by the mid-20th century as part of a widespread, federally backed effort to control predators.
Seven wolves were reintroduced to Arizona's Blue Range in 1998, and as the population has grown, so has the controversy over the program (*Land Letter*, March 11, 2010.)
Local officials, ranchers and other residents want to see the population curtailed or removed, while environmental groups say FWS hasn't done enough to ensure the wolves get a fair chance to re-establish themselves. Over the years, both sides have filed suit over the program.
Under the existing recovery plan, FWS set a goal of 100 Mexican wolves in the recovery area, but the agency didn't include an official recovery threshold. The wolf population has reached about 60 animals, inhabiting both Arizona and New Mexico, and an additional 300 Mexican wolves are in captivity. The wolf is listed as endangered under the Endangered Species Act but is managed as an experimental population to allow "problem wolves" that repeatedly prey on livestock to be removed or killed.
The PEER complaint is not the first time FWS has been accused of succumbing to political pressure during the recovery planning process.
A team convened in 2003 to develop a new plan, but after that science subgroup established recovery criteria — three populations of 250 wolves each, connected by dispersal — then-Regional Director Dale Hall suspended the effort.
"They were going to get too much negative feedback, and they didn't want to deal with it," said Philip Hedrick, a geneticist at Arizona State University and a member of the last Mexican wolf recovery team. "Sounds like a very similar situation now.
Upon arriving in the Southwest in 2005 after a stint as acting special assistant to the director in Washington, D.C., Tuggle set his sights on fixing the Mexican wolf program (*Land Letter*, Sept. 23, 2010).
But five years later, things hadn't changed much. In a 2010 assessment, FWS concluded that the Mexican wolf reintroduction program was "at risk of failure" (*
Land Letter
*, May 13, 2010).
Not long afterward, the agency established the eight-member science and planning subgroup within the larger Mexican wolf recovery team, which came up with the recovery criteria of three connected populations of 200 to 350 wolves.
But it appears that the backlash from state officials and others has the agency backtracking, PEER Executive Director Jeff Ruch said.
"These are complex organizations with their own diversity of viewpoints, but I think the marching orders coming down on high at Interior was to make the state partners happy," he said.
State influence
Whether Interior's inspector general confirms PEER's charges of political interference remains to be seen. But there's no doubt that the latest recovery effort has angered some politicians.
Sen. Orrin Hatch (R-Utah), for one, made clear in an
October 2011 op-ed
that he doesn't want Mexican wolves in his home state. .
"The federal government has no business foisting Mexican wolves and other non-native species on Utah," Hatch wrote. "I am committed to continue to do all I can to ensure that they don't."
The Utah Division of Wildlife Resources also sought to exclude the state from recovery actions, PEER's complaint says.
In its response to Utah concerns, FWS reiterated it hadn't made any final decisions about the recovery plan.
PEER also says the Arizona Game and Fish Department, a partner in the reintroduction effort, put political pressure on the FWS group, as well.
In August 2011, the Arizona Game and Fish biologist on the FWS panel, Jim Heffelfinger, opposed his colleagues' recommendation to establish three populations of about 250 animals each.
Later that month, Tuggle requested that the team consider including a range of population goals instead of focusing on three populations of 250. The note from the recovery team coordinator says, "You should not feel undo pressure at this point to accommodate, per se, but you should recognize that this is his way of telling you (at least at this point) what information he would like to see."
PEER says the email shows Tuggle was responding to political pressure from the states to lower the number of wolves needed for recovery or forgo a numeric threshold altogether.
FWS referred calls for comment on the complaint to Interior headquarters. Spokesman Adam Fetcher said the department wouldn't respond to questions while the complaint was still under consideration.
Jim Paxon, spokesman for Arizona Game and Fish, said PEER's accusations are "unfounded." The agency's presence on the science panel has helped, not undermined, the recovery planning process, he added.
"We've been involved in Mexican wolf management for 20 years, and it makes sense that our on-the-ground presence, our experience and the information that we've received from tracking wolves, from observing them on the ground, from looking at depredations, to investigating mortalities — that that experience be included in the science committee," he said.
Heffelfinger is a "world-class wildlife biologist" specializing in elk and deer — the wolf's main prey, he added.
"We're trying to work with everyone on this wolf management," Paxon said. "We think the wolf has a place in the ecosystem in Arizona. We want it to be balanced with prey base; we want to have hunters to have opportunities to hunt deer and elk; we want ranchers to be able to survive on the ground." .
Danger in delay?
Some members of the science subgroup expressed concern about stakeholders' influence on the decisionmaking process.
Last January, three members of the eight-member panel wrote a letter to Tuggle reminding him that the decisionmaking structure he had established defers to experts on the science and planning subgroup in developing recovery criteria and that that approach is the best way to ensure that the draft plan "meets the highest technical standards and thus merits favorable scientific peer review."
"Although we believe that your initial letter of invitation set forth clear guidelines for the Team's work, other members of the Full Team may be interpreting your instructions differently," they wrote. "For example, members of the Team have proposed that numeric recovery criteria considered by Science and Planning Subgroup should be adjusted downward to account for socioeconomic concerns."
But that's not in keeping with ESA requirements, they added.
"However, our understanding of the ESA and associated regulations is that socioeconomic factors should not influence development of recovery criteria, but rather should be considered when developing and implementing recovery actions," they wrote.
On April 2, Tuggle responded, reaffirming the panel's responsibility for developing recovery criteria based on the best available scientific information. The next month, he canceled the scheduled June recovery team meeting.
Several members of the science group contacted by *Greenwire* either declined to comment, citing the sensitive nature of the matter, or didn't return phone calls.
Hedrick of Arizona State University said he and other supporters of the program are concerned that the delays in crafting a workable recovery plan could undermine the program.
"I think if this gets delayed too long, which seems to be the purpose of what [critics] are doing, the Mexican wolf itself is going to be unsuccessful in this population," he said. "And I think that's the reason why Arizona Game and Fish and others are trying to drag this out."
Under Interior rules, the PEER complaint is supposed to trigger an independent scientific review, which could lead to disciplining of responsible officials. But so far, while several complaints have been filed, Ruch said, the department has not yet reported any findings of scientific misconduct.
"These rules have been in place for a year and a half," he said, "and we have yet to really see them work."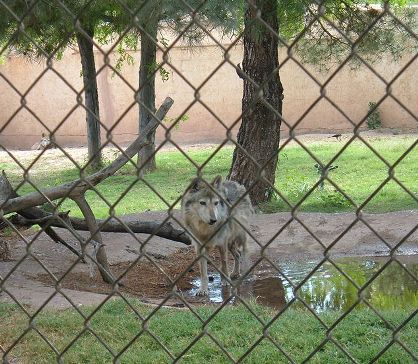 ********************************************************
This article was originally published on
Greenwire
Please join scientific societies in calling on US Fish and Wildlife Service
Director Dan Ashe
and NM Senators
Tom Udall
and
Jeff Bingaman
to ensure development of a science based recovery plan for the Mexican gray wolf.
Some talking points for your letter are below-remember that it will be most effective written in your own words, from your own experienc
e.
A new, science-based recovery plan to replace the outdated 1982 plan is way overdue; the US Fish and Wildlife Service should be doing all in its power to expedite release of a draft plan based on the work of the scientific subcommittee.
Consistent with the Interior Department's Scientific Integrity Policy, a thorough investigation of political interference with the scientific recovery planning process should be made immediately in response to the complaint by Public Employees for Environmental Responsibility.
Obstruction by anti-wolf special interests and politics has kept this small population of unique and critically endangered wolves at the brink of extinction for too long and can no longer be allowed to do so.
Development of a new recovery plan that will address decreased genetic health and ensure long-term resiliency in Mexican wolf populations must move forward without delay.
The majority of New Mexico and Arizona voters support the Mexican wolf reintroduction.  Polling showed 69% support in New Mexico and 77% support in Arizona.
Wolves bring tremendous ecological benefits to entire ecosystems and all wildlife.  Wildlife biologists believe that Mexican wolves will improve the overall health of the Southwest and its rivers and streams — just as the return of gray wolves to Yellowstone has helped restore balance to its lands and waters.
You can make your letter more compelling by talking about your personal connection to wolves and why the issue is important to you.  If you're a camper or hiker wanting to hear wolves in the wild, or a hunter who recognizes that wolves make game herds healthier, or a businessperson who knows that wolves have brought millions in ecotourism dollars to Yellowstone, say so.
Please email your letter to US Fish and Wildlife Service
Director Dan Ashe
and send a copy to
NM Senators Udall
and
Bingaman
. Include your full name, address, and phone number.
Thank you for taking the time to write a letter on behalf of these important animals who cannot speak for themselves.
Public Employees for Environmental Responsibility (PEER)
complaint filed
to the US Department of the Interior — June 7, 2012.
Raul Grijalva
, AZ Congressman (D), letter to Ken Salazar regarding PEER complaint — June 7, 2012.
Letter from
the American Society of Mammalogists, the Society for Conservation Biology, and the Society for Ecological Restoration sent to the U.S. Fish and Wildlife Service — June 20, 2012
Bottom Photo: Captive Mexican gray wolf photo courtesy of Allen S.
Return