In the News: Colorado wolf advocates, wildlife managers again feud over reintroduction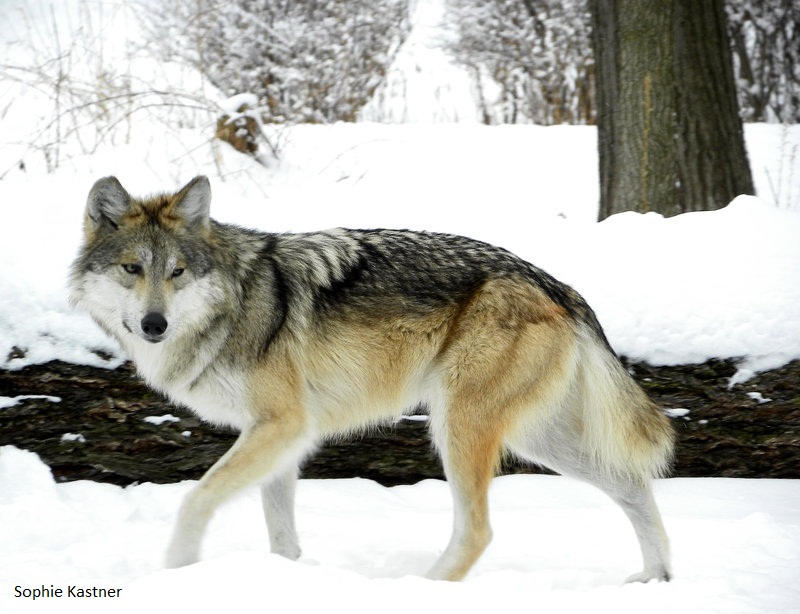 The debate over the wolf's place in Colorado remains a heated one.
A week ago, Colorado Parks and Wildlife (CPW) — the agency tasked with managing the state's fishing, hunting, camping and boating and operating 42 state parks and more than 900,000 acres of wildlands — released a statement that climbing sightings of gray wolves over the last several years will lead to a "likely eventual establishment of their population in Colorado." Because of this assumption, CPW was reminding the public that under the Endangered Species Act of 1973, those who kill a wolf could face up to a year in prison and upwards of $100,000 fines for each offense, per the U.S. Fish and Wildlife Service.
Many saw the announcement as harmless enough, with wolf advocates even commending CPW's progressive effort to help protect the threatened population of this oft-romanticized species from the early days of the American West. But it's the accompanying inference that wolf numbers will continue to organically grow in Colorado without a formal reintroduction that has set off yet another battle.
"As usual, wildlife management is complicated," said Dean Riggs, CPW's Northwest deputy regional manager. "The emotional issues associated with something like this are the things that are hard to deal with. Most people want to make wildlife management simple and/or very scientific, and it's not."
On one side of this ongoing dispute are those who fervently oppose the return of the gray wolf to the region, particularly landowners in the agricultural industry and sportsmen who do not welcome competition with another predator in securing elk or deer each hunting season. On the other are those who champion the wolf and its right to be in its prior location and desire a return to a historically more realistic and native ecosystem.
Mike Phillips, executive director of the Turner Endangered Species Fund, is of the latter mindset and is outspoken that, despite the arguments of the countermovement, wolves pose no noteworthy hazard to the livestock industry. That the killing of farm animals is the rare exception to the rule, and techniques already exist to help offset potential issues on private land to responsibly recolonize the state.
"There is no more symbolic voice for the wildlands of Colorado than the howl of the wolf," said Phillips, who is also a state representative in Montana. "They were an important member of Colorado's natural history, they could be an important member of the future and they're important to restoring the natural balance to Colorado. The wolf's presence would indicate a more complete, a more balanced landscape than not."
And, he said, because the western half of Colorado is so rich with ungulates — elk and deer — hunters would not even notice an impact to their takes. The matter of human safety is also a possible worry from the re-emergence of this carnivorous animal near the top of many food chains, but that, too, is one that is unfounded. CPW mostly agrees.
"There's not a lot of history or knowledge that wolves attack humans," said Mike Porras, CPW's Northwest public information officer, "but there will be people, just like there are with bears and (mountain) lions, who are very concerned about a large predator out in the backcountry. And, of course, there remains that possibility that there could be a conflict."
HAIRY SCENARIO
The specific type of gray wolf seen in the state, that CPW asserts is showing up more and more, is the northern version that was re-established in 1995 at Yellowstone National Park in Wyoming and also extends into Montana and Idaho. While wolf backers argue there is no proof of an increase in Colorado wolf sightings, they also remain aggressive in pushing for reintroduction of both that subspecies, as well as that of the Mexican breed that was put back into the wild in Arizona in 1998.
Since then, a handful of conservation groups sued U.S. Fish and Wildlife in 2014 and won, forcing the federal wildlife protection agency to develop a recovery plan for the Mexican subspecies by the end of 2017. The governors of Utah, New Mexico and Colorado quickly mobilized to officially oppose launch of these wolves in their respective states, with CPW backing the decision by insisting that the region is not the original range of the southern-based wolf, to which wolf crusaders like Phillips spiritedly contest.
Still, muddling the situation further is the fact that CPW is against any systematic reintroduction of the northern subspecies, too, but for different reasons. Among them, because the agency is currently on the hook for any damages caused to private property by either predators or prey, it does not wish to lose vital and limited resources to additional and unknown wildlife expenses. But, if they start showing up in waves, it will be forced to work on management.
"A lot of different factors go into management decisions," said Porras, "but certainly, losses from predators, losses from game damage are all a big part of that, as well. (Wolves) certainly don't recognize state boundaries; they just go to where they can find habitat or where they can find food. If they come into the state, then they're coming in on their own, and we just have to accept that fact."
What constitutes an established population of wolves is yet another disagreement among these groups of stakeholders — be it mating pairs or multiple and prospering packs in a single area long term. Regardless, members of the pro-wolf viewpoint dispute that anything more than perhaps a handful of strays or occasional border crossing will ever materialize without an implemented reintroduction plan. And producing one allows for the most cost-effective, liberally-managed and successful approach to receiving what the state agency is already under the impression is ultimately unavoidable, but, as of now, CPW isn't budging.
"The bottom line is that Colorado Parks and Wildlife remains opposed to a (wolf) reintroduction," said Porras. "Certainly people are fascinated by them. They're these beautiful creatures, and they're great to see. But opinions of these species can run the gamut in terms of whether they're seen as beneficial or harmful. We have to look at both sides and have to walk that fine line. It's just a much more complicated issue right now to reintroduce them."
Please write a letter to the editor in support of bringing wolves back to Colorado.
The letters to the editor page is one of the most widely read, influential parts of the newspaper. One letter from you can reach thousands of people and will also likely be read by decision-makers. Tips and talking points for writing your letter are below, but please write in your own words, from your own experience. Your letter will be most effective if you focus on a few of the talking points below rather than trying to include them all.
Letter to the Editor Talking Points
For over 10,000 years, gray wolves lived throughout Utah and Colorado and played an important role in shaping the landscape and maintaining balance in nature.  Under state management, most subspecies of wolves were hunted and trapped to extinction.  The highly endangered Mexican grey wolf is the most appropriate surviving subspecies for recovery in Utah and Colorado, and they cannot recover without help from all four states.
Research out of UCLA demonstrates that Mexican gray wolves historically ranged into southern Colorado and southern Utah.
Wolves are needed, be they Mexican gray wolves or northern wolves, to help repair western wildlands.  Taking a lesson from Yellowstone and the important role of top predators in ecosystems, many of us would welcome lobos throughout the Southwest.
We can't count on natural dispersal to create a viable wolf population in Colorado.  There are too few wolves dispersing and too many mortality hazards exist to create a viable population.  The odds of individuals crossing state lines and safely finding each other and successfully mating are low.  Reintroductions are needed to ensure the return of the wolf to Colorado.
Coloradans value healthy landscapes and healthy wildlife populations, and that includes the important but now-absent role of wolves in the environment.  Colorado has some of the best remaining suitable habitat for wolves in the Lower-48.
Recent polling shows that 70% of Coloradans support the state restoring wolves in Colorado wilderness areas.
The author doesn't mention Mexican gray wolves, but scientists have determined both that the lobo used to range into southern Colorado, and that our state is absolutely necessary for the recovery of these rare wolves.
States have failed to manage wildlife as a public trust for current and future citizens.  State wildlife policies, which kill off predators to supposedly support game populations, are rooted in the 1800s. Fortunately, our national policy is to restore and preserve all forms of wildlife, including predators.  Until the states get serious about balancing conservation vs. consumption, they should recuse themselves from decisions about endangered species.
Ranchers throughout the West are learning how to live with wolves. Non-lethal tools — guard dogs, strobe lights, electric fencing — can be more effective and sustainable than lethal tools — aerial gunning, hunting and trapping — in preventing wolf and livestock conflicts.
There are plenty of programs — federal, state and private, to help ranchers reduce conflicts with wolves and other predators.
Wolf restoration is far more likely to boost the economy and enhance the ecological diversity of Colorado rather than upend it.
Wolves are important predators that contribute to the health of the ecosystems they inhabit. Predators like wolves tend to hunt and cull old, sick and injured deer, elk and other grazers. This keeps these prey populations healthy and enhances the health and diversity of the plants other wildlife need to thrive.
Make sure you:
Thank the paper for publishing the article.
Submit your letter as soon as possible. The chance of your letter being published declines after a day or two since the article was published.
Do not repeat any negative messages from the article, such as "so and so said that wolves kill too many cows, but"¦"  Remember that those reading your letter will not be looking at the article it responds to, so this is an opportunity to get out positive messages about wolf recovery rather than to argue with the original article.
Keep your letter brief, between 150-350 words.
Include something about who you are and why you care: E.g. "I am a mother, outdoors person, teacher, business owner, scientific, religious, etc."
Provide your name, address, phone number and address.  The paper won't publish these, but they want to know you are who you say you are.