In the News: Busch Family Member New Director of Endangered Wolf Center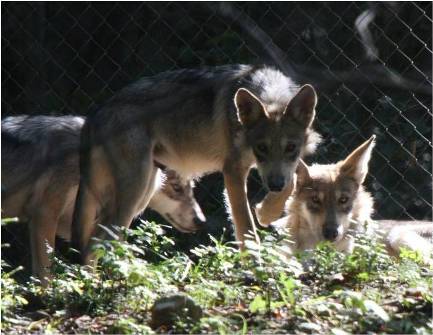 By Chad Garrison
It seems there are two types of folks in the Busch family. The colorful ones whose alliances, excesses and questionable behavior (Gussie and August IV come to mind) capture headlines. And everyone else.
Virginia Busch falls squarely in the latter category. So obscure is this member of St. Louis' first family that we here at Daily RFT had to Google her name when we heard she'd just been tapped to serve as the executive director of the Endangered Wolf Center in west St. Louis County.
Turns out that "Ginny," as the 32-year-old is also known, is the daughter of former Anheuser-Busch chairman August Busch III and Virginia Lee Wiley (who also goes by "Ginny") and the half-sister of the infamous August Busch IV. She is also exactly what the Endangered Wolf Center was looking for, says Rachel Broom, the organization's director of development.
"¦
Prior to joining the Endangered Wolf Center, Busch served as the "conservation ambassador" for SeaWorld and Busch Gardens and president of the SeaWorld & Busch Gardens Conservation Fund, a non-profit that donated money to the wolf center and other conservation efforts nationwide. But that was before InBev purchased Anheuser-Busch and spun off its Busch Entertainment Corp., leaving Virginia Busch and other executives at the company's St. Louis headquarters out of a job.
"¦
"I'd like to make the wolf center a destination," says Busch, who graduated with an anthropology degree from Washington University and (to answer the "St. Louis question") attended high school at John Burroughs. "It's not going to be the zoo or the Botanical Gardens," she says. "But people need to know it's here. I know I visited the wolf center as a child and have fond memories."
Busch will work 30 hours a week for the center. Her other obligations include serving as a national council member for the World Wildlife Fund, an advisor for the National Geographic Society and a board member of Fauna & Flora International.
Former St. Louis Zoo director and host of Mutual of Omaha's Wild Kingdom, Marlin Perkins, helped found the wolf center in 1971. Today the center serves to educate the public about wild canids and breeds Mexican gray wolves, red wolves and swift foxes for release back into the wild. The facility also breeds endangered African wild dogs and maned wolves and operates in conjunction with Washington University on 63 acres of the Tyson Research Center near Eureka.
*****
Read the full article here.
Learn more about captive breeding
here
.