In the News: Binder Park Zoo Plays Part in Wolf Legacy Project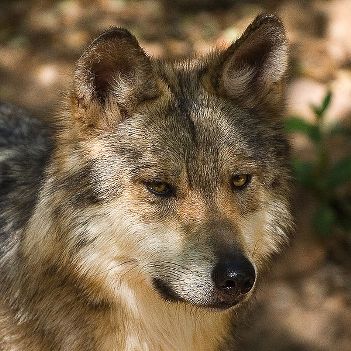 Future generations of Mexican gray wolves will be able to thank Binder Park Zoo for their existence.
In February, the zoo participated in the Association of Zoos and Aquariums' Species Survival Plan program, collecting genetic material from the population of male Mexican wolves to be stored for future breeding.
Researchers from the St. Louis Zoo, where the Battle Creek wolves' semen will be stored alongside wolf material from other institutions, worked with Binder Park Zoo on the project, along with the U.S. Fish and Wildlife Service.
"There's a moratorium on natural breeding, meaning that they're pausing that natural breeding process because they just don't have enough places to put these animals in captive settings," Binder Park Zoo veterinarian Dr. Judilee Marrow said Tuesday.
Mexican wolves are on the United States' endangered species list. According to the Fish and Wildlife Service, "the Mexican gray wolf is the smallest, southern-most occurring, rarest and most genetically distinct subspecies of gray wolf in North America."
There are about 300 captive wolves overall right now, according to the zoo's Director of Wildlife and Conservation Jennifer Barnett. At Binder, there are are three adult males that provided the semen samples.
In the 1990s, the zoo kept timber wolves but replaced them with Mexican wolves to participate in the survival program. In 2002, two wolf parents gave birth to nine cubs. Five of them, females, were sent to other zoos where they could participate in the program. Binder kept the other four, all males.
Barnett said the animals are kept in a pack, just as they would live in the wild.
Mexican wolves live for 10 to 15 years.
Marrow stood on a high walkway above bounding and playing wolves as children and their parents — visitors for an education program — watched nearby. Marrow said it was important to keep the genetic information of "these older boys."
"They might not be with us by the time that moratorium is lifted," Marrow said. "But we don't want to lose that genetic information."
Marrow said the collection of wolf semen isn't so different from getting it from livestock. A low-voltage electrical probe is used to stimulate anesthesized wolves into producing semen.
"The nerve endings in the reproductive system and the muscles are all controlled by electric impulses," Marrow said. "It does require anesthesia because it is a procedure that they're not used to. We don't want to cause them any sort of stress or anything like that."
Getting the material is important because of the limited space available at zoos to house wolves; Binder Park Zoo's maximum is six or seven wolves, Barnett said. Low animal populations means low genetic diversity.
Storing genetics in a bank where they're easier to access means diversity can spread.
The Species Survival Plan is a wide-ranging program that manages animals that are usually threatened or endangered. The AZA said on its website, aza.org, there are more than 300 such programs.
Peter Siminski is the coordinator of the AZA's survival program for the Mexican wolf. He said keeping wolves in captivity has saved them from disappearing from the planet.
"This captive population is what the SSP manages in 52 institutions in the U.S. and Mexico," Siminski said from The Living Desert University in Palm Desert, Calif., where he's the Director of Conservation and Education. "Binder Park Zoo is one of them."
Siminski said the Mexican wolf population in the wild went extinct in the 1980s. The captive wolves were able to provide for a reintroduction in Arizona and New Mexico in 1998, and there are about 75 living in the wild today.
"It involved a lot of institutions and Binder Park Zoo's been a long-time participant in the SSP," Siminski said.
While places such as Binder Park Zoo can provide a future for wolves, their fate can be uncertain once they're in the wild.
Barnett said she was worried about Mexican wolf populations being hunted by humans. While Mexican wolves are protected, Upper Great Lakes wolves were removed from such protection.
"It's not going to be well-controlled and they're going to be totally disrupting those packs," she said, "and it could put them back on the endangered species list."
This article was published in the Battle Creek Enquirer on April 2, 2013.
Video – Binder Park Zoo preserves Mexican Grey Wolves

: Binder Park Zoo's staff veterinarian Judilee Marrow talks about efforts to collect and preserve Mexican Grey Wolf semen. –
Photo Gallery — Binder Park Zoo's Mexican Gray Wolves
Click here
to join our email list for Mexican wolf news and alerts.
Visit us on Facebook
here.
Photo credit:  C. Morrison