In the News: Arizona eases gray wolf reintroduction stance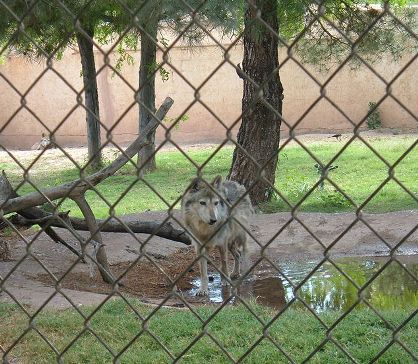 The Arizona Game and Fish Commission has backed off its strict stance against any new releases of endangered Mexican gray wolves.
On Dec. 2, the commission voted to oppose any such releases until the U.S. Fish and Wildlife Service completes several planning measures for the re-introduced population of endangered wolves in eastern Arizona.
But on Friday, the commission unanimously voted to consider allowing new releases to replace dead wolves on a case-by-case basis.
Now, if a wolf is illegally killed, the Game and Fish director may approve the release of a replacement wolf, the commission decided. When a wolf dies for a reason other than illegal killing, the commission itself must approve the release of a replacement wolf.
The U.S. Fish and Wildlife Service, Arizona Game and Fish and other agencies began re-introducing wolves in the White Mountains in 1998. The population has not thrived, as many wolves have been killed or removed due to interactions with people.
The Game and Fish Commission is asking the service to finish these planning measures: revising the Mexican Wolf Recovery Plan; revising the nonessential, experimental population rule; and writing an environmental impact statement.
****************************************************************************
This article was published by the Arizona Daily Star. An article on the same topic was recently published by the Arizona Republic.

PLEASE SUBMIT LETTERS TO THE EDITOR to the Arizona Daily Star and the Arizona Republic, thanking them for these articles and promoting more releases of Mexican wolves into the wild. The letters to the editor page is one of the most widely read, influential parts of the newspaper. One letter from you can reach thousands of people and will also likely be read by the U.S. Fish and Wildlife Service.

Tips for writing your letter are below, but please write in your own words, from your own experience.


Letter Writing Tips & Talking Points
Below are a few suggestions for ensuring your message gets through clearly-your letter will be most effective if you focus on a few key points, so don't try to use all of these. If you need additional help or want someone to review your letter before you send it, email it to info@mexicanwolves.org:
Start by thanking paper for their coverage of this important issue-this makes your letter immediately relevant and increases its chances of being published.
Stress that only about 50 Mexican gray wolves remain in the wild, making them the most endangered mammal in North America.
Tell the Arizona Game and Fish Commission that this is an improvement over their December decision to oppose all new releases and they should give full support to all proposed releases into Arizona.
Encourage the U.S Fish and Wildlife Service to use all the means available to them to expedite releases of captive wolves into the wild.
Convey how important new releases of wolves into the wild are to increase the population's numbers and genetic health-new releases are essential to pull the wild population away from the brink of extinction.
Explain that there are wolves in captivity ready to be released and wolves in the wild that do not have mates; these wolves can't wait two or more years for the new Recovery Plan to be completed.
Talk about your personal connection to wolves and why the issue is important to you. If you're a grandmother wanting your grandchildren to have the opportunity to hear wolves in the wild, or a hunter who recognizes that wolves make game herds healthier, or a businessperson who knows that wolves have brought millions in ecotourism dollars to Yellowstone, say so.
Reiterate the ecological benefits of wolves to entire ecosystems and all wildlife.
Keep your letter brief, between 150-200 words.
Provide your name, address, occupation, and phone number; your full address, occupation, and phone number will not be published, but they are required in order to have your letter published.

Submit your letters here:
Arizona Daily Star 150 word limit
Arizona Republic 200 word limit
Mexican wolf photo courtesy of Allen S