In the News: Ariz. Bill Allowing Ranchers to Kill Wolves Also Vetoed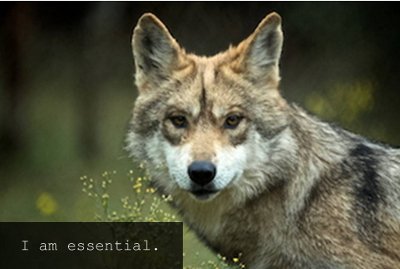 PHOENIX — Gov. Jan Brewer will not give ranchers and their employees permission to kill endangered Mexican gray wolves on federal lands.
The measure vetoed Tuesday was crafted by Sen. Gail Griffin, R-Hereford. She has been a vocal foe of the program by the U.S. Fish and Wildlife Service to reintroduce the wolves into sections of Arizona and New Mexico, saying they are endangering not only cattle but also pets and children.
SB1211 would have spelled out that ranchers could "take" a wolf — legalese for killing — that was killing, wounding or biting livestock. It also would have legalized a guard dog that is protecting livestock killing a wolf.
And the law would also have permitted killing a wolf in self-defense or defense of others. In that case, though, the act would have to be reported within 24 hours to the U.S. Department of Agriculture.
Brewer, in her veto message, said she is a "strong supporter" of states' rights. But she said SB1211 is both unnecessary and conflicts with federal law.
She said the state Game and Fish Department already is working with federal agencies to deal with how wolf reintroduction will affect the state. By contrast, Brewer said SB1211 would have given that duty to the state Department of Agriculture, the agency responsible for dealing with ranchers and grazing.
Beyond that, Brewer said the legislation sought to put the Mexican wolf in the same legal category as mountain lions and bears. But she said that is in conflict with federal law which does allow killing those two species in certain circumstances but not the wolves.
"A state simply does not have the power to allow a 'take' on federal lands," the governor wrote.
Brewer took no action Tuesday on HB2699, a related measure on her desk. It would allow a livestock operator or agent to kill a wolf on public lands if it in self defense or the defense of others, with the only requirement that it be reported to the U.S. Department of Agriculture.
But that measure also contains language that Brewer could find in conflict with federal law.
It directs the Attorney General's Office to seek funds from the federal government to pay ranchers for their losses. But it also says that if the federal government doesn't come up with the cash, the Legislature will consider a measure to require that Mexican wolves be restricted to federally controlled lands and removed from state and private lands.

Note: On Wednesday, April 23, Governor Brewer also vetoed HB2699.
Please write letters to the editor thanking Governor Brewer for vetoing this unnecessary bill and supporting Mexican wolves.
The letters to the editor page is one of the most widely read, influential parts of the newspaper. One letter from you can reach thousands of people and will also likely be read by decision-makers. Tips and talking points for writing your letter are below, but please write in your own words, from your own experience.

Submit your letter to the editors of the following news sources.
Letter Writing Tips & Talking Points
At last official count, only 37 Mexican gray wolves were found in AZ, and only 83 were found total in the wild, making them critically endangered. We have a moral obligation to do everything we can to ensure their recovery and not push them closer to extinction as these bills aimed to do.
Governor Brewer was right to veto SB1211 and HB2699. The proposed legislation would have embarrassed the state by attempting to illegally override federal laws that protect endangered species.
Polling showed 77% of Arizona voters support the Mexican wolf reintroduction. Legislation to impede wolf recovery is a slap in the face to the majority of voters who want wolves to thrive.
Mexican wolves are native to Arizona and were reintroduced in Arizona over 16 years ago. They are part of our natural heritage and we should do everything we can to protect them, rather than trying to again extirpate them.
Wildlife biologists believe that Mexican wolves will improve the overall health of the Southwest and its rivers and streams — just as the return of gray wolves to Yellowstone has helped restore balance to its lands and waters.
Wolves generate economic benefits – a University of Montana study found that visitors who come to see wolves in Yellowstone contribute roughly $35.5 million annually to the regional economy.
Wolves once lived throughout Arizona and played a critical role in keeping the balance of nature in place. We need to restore this important animal that has been missing for too long.
The livestock industry has a responsibility to share public lands with wolves and other wildlife. Funds are available to help livestock growers implement nonlethal deterrents, better animal husbandry practices, and other innovative tools that minimize conflict.
Current rules governing the Mexican wolf reintroduction already allow people to defend themselves if attacked by a wolf. These bills were blatant pandering to a minority of extremists and would have encouraged illegal killing of endangered wolves for a longer list of reasons.
Make sure you:

Thank the paper for publishing the article and thank the Governor for her vetos.

Do not repeat any negative messages, such as "cows may have been killed by wolves, but"¦" Remember that those reading your letter will not be looking at the article it responds to, so this is an opportunity to get out positive messages about wolf recovery rather than to argue with the original article.
Keep your letter brief, between 150-200 words.
Include something about who you are and why you care: E.g. "I am a mother, outdoors person, teacher, business owner, scientific, religious, etc."
Provide your name, address, phone number and address. The paper won't publish these, but they want to know you are who you say you are.
~~~~~~~~~~~
Click here
to join our email list for Mexican gray wolf updates and action alerts.
Visit us on Facebook
here.