In the News: Agreement Reached On Wolves – Plan Allows For Direct Releases into N.M.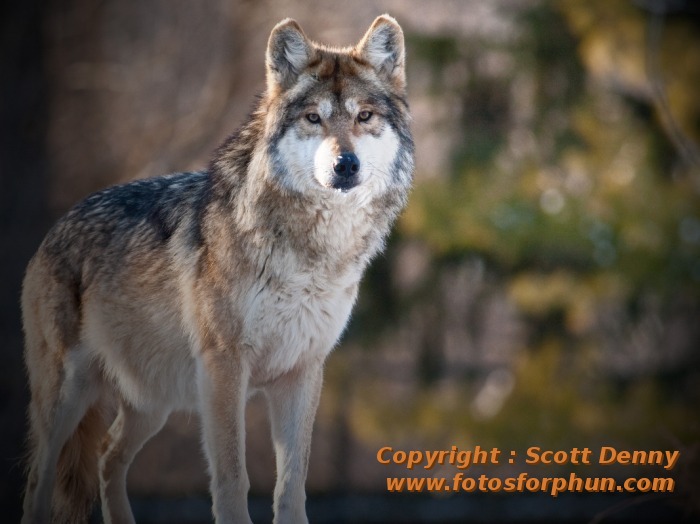 Environmentalists have reached settlements with the U.S. Fish and Wildlife Service that will allow for direct releases of captive wolves into New Mexico as part of the federal government's efforts to re-establish the species in the Southwest.
The agreements also call for the agency to drop plans for capturing any wolves that enter New Mexico or Arizona from Mexico. The agency is also proposing expanding the area where wolves are allowed to establish territories.
"These agreements should breathe new life into the struggling Mexican wolf recovery program and expand the wolf's habitat here," said Michael Robinson of the Center for Biological Diversity, an environmental group that has been critical of wolf management.
The agency first unveiled a proposal in June that called for giving Mexican gray wolves more room to roam in New Mexico and Arizona. Independent scientists and environmentalists have been pushing for more room and for releases of captive wolves in New Mexico for years, saying such actions would bolster the success of the recovery effort.
But, on Friday, Rep. Steve Pearce, R-N.M., criticized the proposed expansion of the program. He said millions of dollars have been spent over the last decade and the wolf population has yet to recover.
"Even worse, these decisions are not being made by the people, or even by elected officials, but by the special-interest lawyers at the Center for Biological Diversity," Pearce said. "It is outrageous and unacceptable that New Mexicans' lives and livelihoods are being put at risk and our tax dollars wasted."
Pearce contends that the management of the wolf population should be turned over to the state government.
A subspecies of the gray wolf found in the Northern Rockies, the Mexican wolf was added to the federal endangered species list in 1976. The 15-year effort to reintroduce them has stumbled due to legal battles, illegal shootings, politics and other problems.
Please submit a letter to the Editor to ensure the future of critically endangered Mexican gray wolves today!
Submit your letter to the Editor here.
The letters to the editor page is one of the most widely read, influential parts of the newspaper. One letter from you can reach thousands of people and will also likely be read by decision-makers.  Tips and talking points are below, but please write in your own words, from your own experience. Don't try to include all the talking points in your letter.

Talking points
Science has repeatedly demonstrated that wolves are keystone carnivores who help to keep wildlife like elk and deer healthy and bring balance to the lands they inhabit.

Wildlife biologists believe that Mexican wolves will improve the overall health of the Southwest and its rivers and streams — just as the return of gray wolves to Yellowstone has helped restore balance to its lands and waters.
The USFWS should move forward with allowing new wolves to be released throughout the Blue Range.

The Mexican gray wolf is the most endangered mammal in the U.S. with only about 75 in the wild.  Additional wolves must be released into the wild now to increase the genetic health of the species.  Numerous wolves are in captive breeding facilities around the country, prepared for, and awaiting, release.
Scientific experts have long said that the Grand Canyon region, which extends from southern Utah to the Mogollon Rim, contains some of the last best places for wolves.
Wolves once lived throughout Arizona and played a critical role in keeping the balance of nature in place.

We need to restore this important animal that has been missing for too long.
Mexican wolves have been on the ground in Arizona for 15 years, and are struggling because of artificial boundaries and political interference.
Wolves need freedom from boundaries.

Given room to roam, the wolves will establish themselves in suitable areas with adequate game. The problem with the USFWS proposal is not that it lets wolves roam in the wrong place (it doesn't) but that it does not allow wolves to establish new packs and populations in additional areas that are essential to their recovery.
Wolves will bring ecological and economic benefits to our region.

We should focus on what is necessary to recover the species.
Prominent wolf experts have advocated restoring wolves to their natural role in the Grand Canyon region for many years

.
The livestock industry has a responsibility to share public lands with native wildlife like wolves.

According to the US Dept of Agriculture, in 2010 only .23% of cattle deaths and 4% of all sheep deaths were due to any type of predator, which includes a lot more than just wolves.There are many proven-effective methods for avoiding conflict.
Make sure you:

Thank the paper for publishing this article.

Include something about who you are and why you care: E.g. "I am mother, outdoors person, teacher, business owner, scientific, religious, etc.)
Provide your name, address, phone number and address.  The paper won't publish these, but they want to know you are who you say you are.

Submit your letter here.
Thank you for speaking out to save Mexican wolves!

________________________________________________________________________________________________________
_____________
Click here to join our email list for Mexican gray wolf updates and action alerts.
Visit us on Facebook here.