In the News: After years of growth, Mexican gray wolf population declines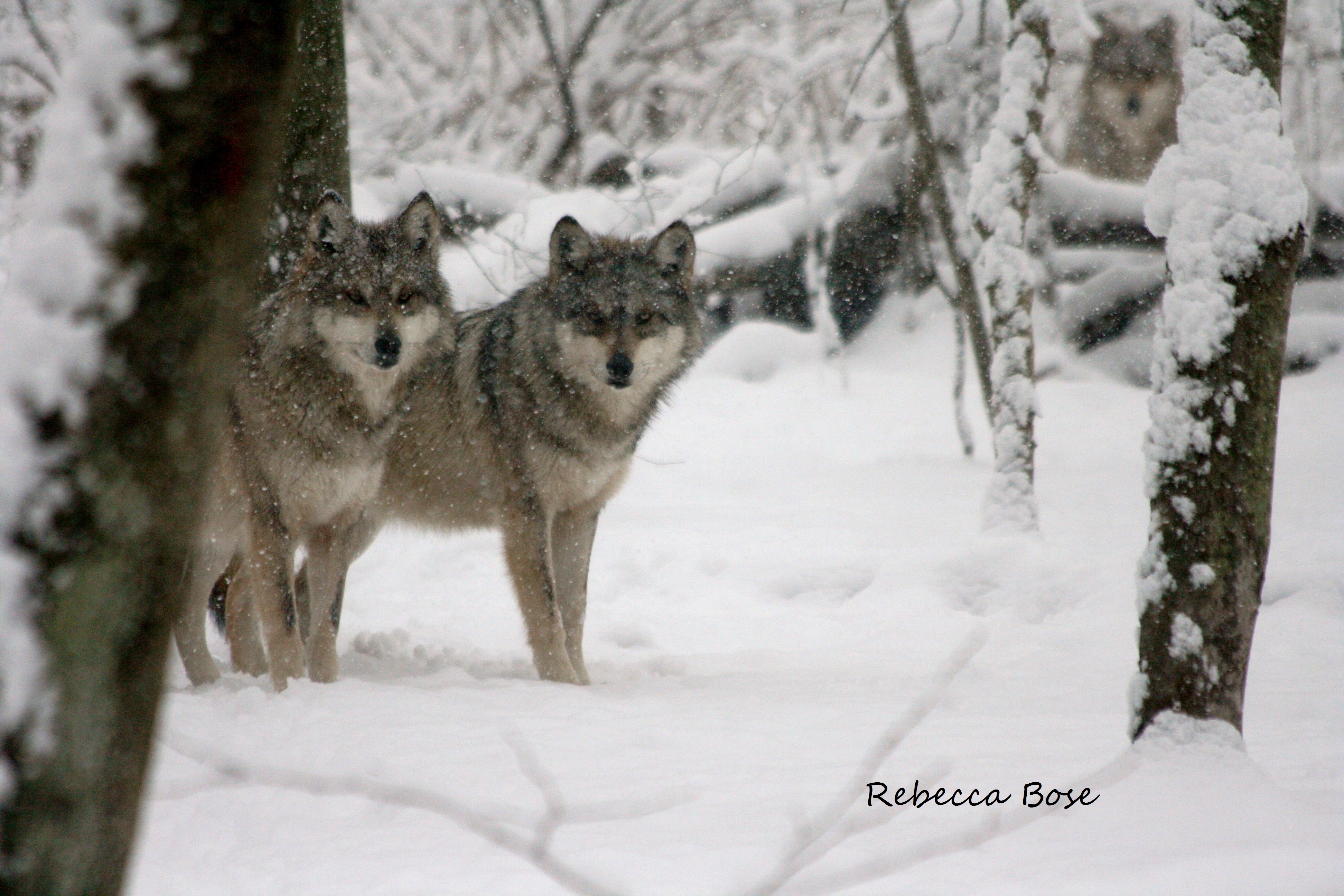 By Susan Montoya Bryan, AP writer
ALBUQUERQUE — Federal wildlife officials on Thursday defended their strategy for reintroducing Mexican gray wolves to the American Southwest despite recording the first decline in the population in four years.
The annual survey released Thursday by the U.S. Fish and Wildlife Service shows at least 97 wolves are spread among forested lands in southwestern New Mexico and southeastern Arizona.
The population had been on the upswing since 2010, with 2014 marking a banner year when the predators topped 110 after seeing an increase of nearly a third in their numbers.
Federal officials conceded that the latest ground and aerial surveys show more work needs to be done to stabilize the long-struggling population.
"While disconcerting, the drop in numbers represents just one year and our strategy for the experimental population continues to be viable," said Benjamin Tuggle, the agency's Southwest regional director. "The Service and our partners remain focused and committed to making this population genetically healthy and robust."
Biologists aren't certain whether the decline in 2015 was an anomaly. They're considering a number of factors, including the deaths of 13 wolves, the unknown fate of another 11, and a significantly lower pup survival rate.
According to the survey, fewer than two dozen wild-born pups survived in 2015 compared to 38 the previous year. The survival rate dipped from a high of 86 percent in 2014 to 55 percent last year.
There's also room for improvement when it comes to the reproduction rates among the 21 wolf packs in the wild. Less than half of the packs successfully reared litters through the end of the year.
Sherry Barrett, the wolf recovery coordinator, said the team will be analyzing all factors in an effort to reverse the decline.
A subspecies of the gray wolf, the Mexican wolf was added to the federal endangered species list in 1976. It wasn't until 1998 that the first captive-bred wolves were released into the wild.
The reintroduction effort has been hampered by politics, illegal killings and other factors. Disputes over management of the program have spurred numerous legal actions by environmentalists who want more wolves to be released and by ranchers concerned about their livelihoods and safety in rural communities.
Most recently, ranchers and other officials in Colorado and Utah have been resistant to the possibility of expanding the wolf program to their states.
The Fish and Wildlife Service is planning to complete a long-overdue recovery plan for the species, but officials have said they've made no decisions about releasing wolves beyond the borders of New Mexico and Arizona.
Still, the governors of Colorado and Utah have joined officials from the other states in accusing the agency of using flawed science and biased experts. Federal officials have defended their experts and the process.
Environmentalists, meanwhile, have been pushing for the release of more captive wolves into the wild.
Michael Robinson with the Center for Biological Diversity promised to continue that pressure, arguing that's one way the population will be bolstered and distribution in the region improved. He said the agency is relying too heavily on cross-fostering pups with established wolf packs.
Jim deVos, the assistant director of wildlife management for the Arizona Game and Fish Department, acknowledged Thursday that recovery of any endangered species is never easy. He said the wolves are on a long-term upward trend given that they were completely absent from the landscape two decades ago.
"The lower number of Mexican wolves that were counted is a concern, but not a signal that the program is unsuccessful," he said.
This story was covered by several news sources.  See below for links and contacts for letter submissions.
Please help Mexican wolves with a letter to the editor!
The letters to the editor page is one of the most widely read, influential parts of the newspaper. One letter from you can reach thousands of people and will also likely be read by decision-makers.  Tips for writing your letter are below, but please write in your own words, from your own experience.  Don't try to include all the talking points in your letter.
This story was covered by several news sources.  
See below for links and contacts for letter submissions.
Letter to the Editor Talking Points and Tips
With just 97 Mexican gray wolves remain in the wild today in eastern Arizona and western New Mexico, this unique sub-species is teetering on the brink of a second extinction.
Geneticists have warned for years that the wild population needs greater diversity, but the US Fish and Wildlife Service has failed to release new wolves into the wild to improve the wolves' genetic health.
For over 3 decades, captive breeding programs in the U.S. and Mexico have worked to maximize genetic diversity so that captive wolves could be released to increase the wild population's genetic health. But USFWS has released very few of these wolves.  The wild population of Mexican gray wolves remains critically endangered and in need of additional populations, new releases to improve the population's genetics, and a scientifically valid recovery plan.
Almost 18 years after the first Mexican wolves were reintroduced, there are only 97 wolves in the wild. More wolves are needed to stop inbreeding that researchers suggest may be lowering litter sizes and depressing pup-survival rates.
The window is closing on fixing the genetic issue, and one of the easiest steps the US Fish and Wildlife Service can take is to release more wolves from captivity, and do it now.
The U.S. Fish and Wildlife Service needs to do more — and do it fast — to save the lobo from extinction. In order for Mexican gray wolves to recover fully, they need more wolf releases, a science-based recovery plan and more wolf populations in suitable habitats.
The US Fish and Wildlife Service should stop letting anti-wolf state officials obstruct wolf recovery.  The last effort to create a Mexican wolf recovery plan stalled precisely because the states were given opportunities to weigh in before the work of the scientific experts was released for public comment. The most recent recovery planning process, which began in 2011, ended amidst allegations of political interference by these same states with the science.
Wildlife biologists believe that Mexican wolves will improve the overall health of the Southwest and its rivers and streams — just as the return of gray wolves to Yellowst

one has helped restore balance to its lands and waters.
States have failed to manage wildlife as a public trust for current and future citizens.  State wildlife policies, which kill off predators to supposedly support game populations, are rooted in the 1800s. Fortunately, our national policy is to restore and

preserve all forms of wildlife, including predators.  Until the states get serious about balancing conservation vs. consumption, they should recuse themselves from decisions about endangered species.
Enough is enough. The Service needs to assert its authority and recover the Mexican gray wolf.
Mexican gray wolves are unique native animals. They are the rarest, most genetically distinct subs

pecies of gray wolf in North America and the most endangered wolf in the world.
Polling shows that the majority of voters support the Mexican wolf reintroduction.
Wolves generate economic benefits – a University of Montana study found that visitors who come to see wolves in Yellowstone contribute roughly $35.5 million annually to the regional economy.
Letter Writing Tips
Make sure you:

Thank the paper for publishing this article and make sure to reference it in your letter.
Submit your letter as soon as possible. The chance of your letter being published declines after a day or two since the article was published.
Do not repeat any negative messages, such as "so and so said that wolves kill too many cows, but"¦"  Remember that those reading your letter will not be looking at the article it responds to, so this is an opportunity to get out positive messages about wolf recovery rather than to argue with the original article.
Keep your letter brief, no more than 200 words. Letters will be edited for space and clarity.
Include something about who you are and why you care: E.g. "I am a mother, outdoors person, teacher, business owner, scientific, religious, etc." Don't be afraid to be personal and creative.
Provide your name, address, phone number and address.  The paper won't publish these, but they want to know you are who you say you are.
Where to submit your letter:
Arizona Daily Star

Submit your letter
HERE
.
Don't stop now – Do MORE for Mexican wolves
Obstructionist policies that ignore scientific facts have been interfering with Mexican wolf recovery for many years.  Here are some past articles that highlight some of the history of the struggle to support a recovery plan based on science and not politics.
Political Mudwrestling on Mexican Wolf Science (PEER) – 9/4/12