Great Pro-Wolf Letters to the Editor – Thanks For Speaking Up For Mexican Wolves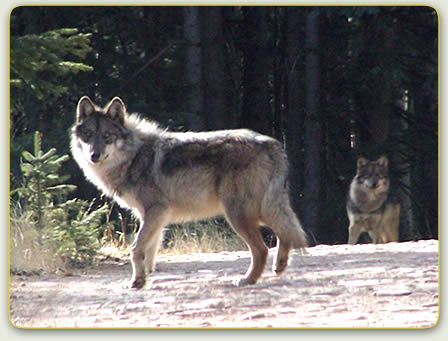 Thank you to all who have submitted letters!
Writing a letter to the editor of your local newspaper is an excellent way to raise awareness about critically endangered Mexican gray wolves and the steps needed to help them thrive. Surveys of newspaper readers show that the letters page is among the most closely read parts of the paper. It's also the page policy-makers look to as a barometer of public opinion.
Below are some recent letters that have been published.
Thanks for your Jan 22 article: Mexican Gray Wolf released near Alpine.
Unfortunately, just releasing to replace wolves that died is woefully inadequate (especially when poaching isn't vigorously enforced). Fish & Wildlife service need to do their job (they are the "nuisance"). They need to update their plan to ensure the wolves survival. In order to do this, they must release many wolves. They must remove/ban traps in wolf recovery areas! To reduce livestock conflicts — only allow grazing on public land when range riders are present! This is public land that the public wants wolves on. Fish & Wildlife is supposed to work for the public … (not private profit/special interests as they've been doing). Cows are not wildlife. Release more wolves now.
Nikki Nafziger, Vallejo, Calif.
Opposes Alliance

— 02/05/13
I am writing in response to the Nov. 28 article "Southwest County Commission Alliance changes direction on Gila River issues." This article states that meeting attendees were confused about the alliance's objectives, a quite understandable response. Because I have attended the last five of their meetings, perhaps I can clear up some of the befuddlement. Below are a few representative examples of the actions taken by this alliance.
They passed a resolution against U.S. Fish and Wildlife Service's designation of critical habitat for jaguars on public lands in Hidalgo County. They wrote to Governor Martinez asking her to intervene in removing "problem wolves" from the Mexican gray wolf recovery area.
Perplexingly, the alliance passed a resolution against designation of the Organ Mountains-Desert Peaks National Monument, even though its proposed location is not in any of the six counties that comprise the alliance. The resolution dramatically states that the monument has "huge implications that pose dangers to the state of New Mexico and the United States of America," despite being endorsed by Doña Ana County and the cities of Las Cruces, Mesilla, and El Paso.
The alliance has expressed opposition to closing any roads in the Gila National Forest, regardless of how erosive or superfluous they are. Although the alliance has been informed countless times that the Forest Service's Travel Management plan would leave open more than 3,300 miles of roads – enough to drive from San Diego to Maine – they insist that all current roads, including unengineered user-created routes, remain open.
I urge all conservationists to contact their county commissioners to let them know that we oppose their actions and will not vote back into office short-sighted officials who fail to recognize the crucial importance of protecting our environment for future generations.
DONNA STEVENS, Executive Director, Upper Gila Watershed Alliance, Gila
Thank-you for publishing the article, "Legal Efforts Are Underway to Protect Mexican Gray Wolves."
Fifteen years have gone by since these wolves were released in Arizona and New Mexico. They continue to struggle to flourish and survive as the U.S. Fish and Wildlife Service refuses to make the changes the wolves need to succeed.
Key changes include (1) increase the number of releases in both Arizona and New Mexico; (2) stop using the presence of livestock as a justification not to release wolves into a wider range of the available area in Arizona; and (3) expedite the wolf recovery planning process and release a new draft plan to the public for comment. ??
The majority of the people of New Mexico and Arizona support the Mexican grey wolf reintroduction. These rare wolves serve to remind us that their very existence is essential to maintaining the balance in nature. We have an obligation to follow through with the reintroduction plan that was started 15 years ago and to eliminate any barriers to the success of that plan.

Jacqueline Sgroi, Glendale, Arizona
Thank you for your article "Mexican wolves in Southwest fare better in 2012," (Jan. 4). This is awesome news! However, we still have less than 60 Mexican gray wolves living in the wild in the United States. Until more wolves are released into the wild, Mexican wolf recovery is in grave danger. No new wolves means a gene pool that is getting progressively less diverse, and wolves who are weaker and less healthy. Mexican gray wolves could easily become extinct in our lifetime unless immediate action is taken. Plenty of wolves have been prepared for release into the wild and are waiting in wolf centers around the country, including here in California. What are you waiting for, U.S. Fish and Wildlife? The time to act for lobos is now!
Janet Hoben, Burbank, Calif.
White Mountain Independent – 01/08/13
To the Editor:
Thank you for your article on the subject issue.
What I've had trouble accepting is that ranchers can graze their livestock on 'our' public lands, yet they blame wolves for any predation that takes place, regardless of studies showing multiple causes of livestock deaths on these unprotected lands. This blame, of course, allows for hunters to get into the mix, including the use of inhumane, torturous traps and heavily-armed "sports" hunting. How sad is that?
People and wolves can and should live side by side. The wolf is not always at fault!
Thank you for your consideration.
Terri Sutton, Walnut Creek, Calif.
Click here for a recent article that provides a letter to the editor opportunit

y

.
To join our email list for Mexican gray wolf news and action alerts, click here.
You can visit us on Facebook here.