Great Letters to the Editor in the Albuquerque Journal!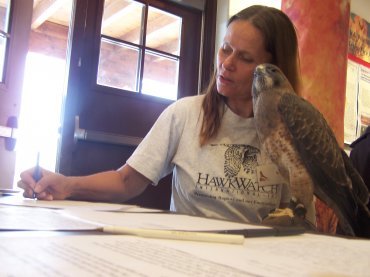 Writing a letter to the editor of your local newspaper is an excellent way to raise awareness about critically endangered Mexican gray wolves and the steps needed to help them thrive. Surveys of newspaper readers show that the letters page is among the most closely read parts of the paper. It's also the page policy-makers look to as a barometer of public opinion. We applaud these fine letter writers, who are making a difference for endangered lobos!

Biologists note that wolves encourage diversity
THE MEXICAN GRAY wolf used to be found throughout the U.S. Southwest and northern Mexico. As the top carnivore in our region, it has historically played a critical role in natural areas. Studies done in Yellowstone and Banff National Parks have shown that wolves are important in a number of ways.
After the return of wolves, biologists noticed that, without an over-abundant population of elk and deer, willows and cottonwoods were also returning alongside streams. This meant that beavers were able to return and, in their turn, help bring back wetland areas that are home to a diverse array of fish, plants and birds.
After one becomes aware of the critical role top carnivores like the Mexican gray wolf play, it's hard to understand how Rep. (Steve) Pearce could introduce legislation that would ensure their extinction. This bill, HR 2910, calls for the delisting of the Mexican gray wolf as an endangered sub-species.
Losing their federally protected status would be devastating for the approximately 109 Mexican wolves in the wild. Considering the importance wolves have been shown to play in natural areas, it seems short-sighted to push our native Mexican gray wolf back to extinction.
ROSEANN HERNANDEZ
Las Cruces
Coexistence a much better outcome than extinction
I FIND IT problematic that N.M. Rep. Steve Pearce does not get it that he should actually be representing his constituents. According to a 2013 poll, 69 percent of New Mexicans support the recovery of the Mexican gray wolf. This begs the question then, why would Representative Pearce sponsor a bill that would be a death sentence to lobos?
As the native top carnivore, the Mexican gray wolf is part of our heritage here in the Southwest. Is it because Representative Pearce does not care about his constituents and is more concerned about the well-being of the businesses donating to his campaign or he is just not smart enough to understand the benefits of having a balanced eco-system?
In the Albuquerque Journal article published June 27 ("Mexican wolf may lose protected status"), Representative Pearce states that Mexican wolves are a "big economic problem." One can only assume he is talking about livestock interests in our state, since ecotourism — tourism focused on viewing wildlife and natural areas — is a booming industry. A University of Montana study showed that the Yellowstone region alone estimates a $35 million annual increase in revenues due to tourists hoping to see and hear wolves.
Though depredations on livestock do occur, Mexican wolves account for less than 1 percent of cattle and calf losses in New Mexico. There are also many ways in which livestock producers can avoid conflicts with wolves, including fladry and range riding, among other options. A (Mexican Wolf/Livestock) Coexistence Council was also formed last year by ranchers to help find ways to coexist with wolves.
Finding ways to coexist is the answer, extinction is not.
RASOOL AHADI
Mesilla Park
The Mexican gray wolf helps to balance our ecosystem
KILL THE NEW Mexico lobos?
Why does Rep. Steve Pearce want to kill off the Mexican gray wolf with the introduction of HR 2910, which would remove the Endangered Species Act protections for this rare wolf and open up hunting for the wolves? There are fewer than 120 Mexican wolves in the entire world. They are not a threat to humans and they kill very few livestock (.005 percent — feral dogs probably kill more) and the government reimburses for kills and even incentivizes the ranchers to share grazing lands.
We have always honored the wolf, and even commercialize, memorialize and commemorate the lobo by naming sports teams and many businesses after it. What does it say about us if we allow the extinction because we stripped away this wolf's protections?
To ensure the recovery of this magnificent animal, we need the protections of the endangered species act. Public polling shows overwhelming support for wolves, with 87 percent of New Mexicans and Arizonians supporting a recovery program.
Tourism in this state depends on our public lands, wildlife and wilderness, and future job growth will be in the form of ecotourism; to keep our ecosystem balanced, we need the wolf! If Steve Pearce gets this bill through Congress, he once again will be going against the wishes of New Mexicans.
CATHY MCMANUS
Cedar Grove
Gray wolf won't be the only thing extinct if bill is passed
EMOTION IS AN important aspect to the wolf debate. I don't feel I need to apologize for having an emotional response to this proposed bill, HR 2910, to remove protections for the Mexican gray wolf, the most endangered animal in the United States.
I'm angry. I'm outraged. Another emotional response may be that the wolf is the enemy of the rancher but, you know what, let's look at the current state of water in New Mexico and Arizona, climate change, even corporate agriculture.
These are the real threats to traditional ranching in New Mexico and the real threats that should set off a huge fear-based response like the Lobo is receiving, but isn't.
Maybe (Rep. Steve) Pearce and (Arizona Rep. Paul) Gosar might want to look at real issues facing the Southwest, and not try to destroy the environment and its wildlife at record pace. What happens to the wolf will happen to the rancher. The relationship between human beings and nature is value-based and you can't ignore the feelings you have about it. We can argue that global warming must be tackled because it's bad for the economy, but there's also the question of how we relate to nature — and the same applies to wolves.
We have learned so much more since the original release of the Lobo wolves — about the way in which more intelligent animals grieve and work as groups, have families, ecological impacts — that the emotional argument can't be ignored.
Can we ethically and morally allow the removal of the Lobo from our planet? I would say the answer is that we can't. The public trust, democracy and science are also at risk of going extinct with asinine proposals like this. We New Mexicans are a hardy bunch who love our wilderness and aren't going to back down from a fight to protect native wildlife over a few special interest groups.
MELISSA SMITH
Magdalena

Reps. should stop playing on outdated fear of wolves
LEGISLATION INTRODUCED by U.S. Reps. Steve Pearce of New Mexico and Paul Gosar of Arizona uses an outdated fear of wolves to enhance their own positions. We know things differently now than we did when Little Red Riding Hood put the fear of wolf in people. We know how integral the wolf is to the ecosystems with which it evolved, how essential to the healthy functioning of those ecosystems it is by keeping in check both animal and plant life that can destroy an indigenous landscape.
We also have methods available to protect livestock. We have agencies willing to help ranchers with protective techniques. We have ranchers on the land whose beef sells for more because it is predator-friendly, i.e. raised with the belief that coexistence works.
Reps. Pearce and Gosar are playing on the fears of constituents who live — whatever their reasons — in an outdated scenario, one promoted by state livestock departments for their own reasons of power. I think if we look at how our elected officials and certain governing departments maintain their power, we might just see how big a role is played by scare tactics.
We should know better.
RUTH RUDNER
Corrales

PLEASE WRITE A LETTER TO THE EDITOR CALLING THIS BILL OUT FOR WHAT IT IS — A DEATH SENTENCE FOR ENDANGERED MEXICAN GRAY WOLVES.

Tips and talking points for writing your letter can be found HERE, but please write in your own words, from your own experience. Don't try to include all of the points listed. Your letter will be effective if you keep it brief and focus on a few key points.
Submit your letter to the Albuquerque Journal letter here.
Pro-wolf letters were also published in the Santa Fe New Mexican.

Submit your letter to the Santa Fe New Mexican here.
*****************************

PLEASE ALSO CALL YOUR REPRESENTATIVES IN CONGRESS and urge them not to cosponsor or vote for this bill or any similar bills or riders.
Contact info for your reps is available https://www.govtrack.us/congress/members just by clicking on your state:
When you call, you can simply say something like:
As a constituent, I urge Representative X to oppose the "Mexican Wolf Transparency and Accountability Act" and any other legislation or riders that seek to undermine wolf recovery or the Endangered Species Act. Only about 109 Mexican gray wolves remain in the wild in the United States, making them highly endangered. I want my representative X to work for the greater protection of these wolves and to oppose efforts to push them closer to extinction.
Please be polite and thank whoever answers the phone.
Thank you for acting to prevent the extinction of our native Mexican gray wolves!
_______________________________________________________________________________________________________
Click here to join our email list for Mexican gray wolf updates and action alerts.
Visit us on Facebook here.
Donate to support our work for Mexican gray wolf recovery here.