Great Letters to the Editor from New Mexican Lobo Advocates!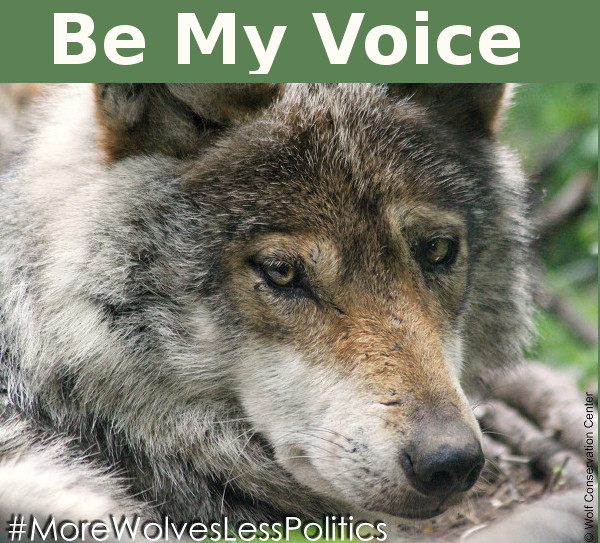 Writing a letter to the editor is an excellent way to raise awareness about critically endangered Mexican gray wolves and the steps needed to help them thrive. Surveys of newspaper readers show that the letters page is among the most closely read parts of the paper. It's also the page policy-makers look to as a barometer of public opinion. We applaud these fine letter writers, who are making a difference for endangered lobos!  We hope that these letters will motivate you to be a voice for wolves.
Great Job New Mexican's!  
The Albuquerque Journal published four of your letters on May 10th!
Albuquerque Journal — May 10, 2016
Commission doesn't want lobos
IS EVERYONE else as fed up with the New Mexico State Game Commission as I am?
Picking hunting, ranching and oil interests to manage our state's wildlife is like picking Donald Trump to head up the NAACP. The governor and her commission don't want wolves. They want more bears killed, more traps set for cougars and any other unsuspecting and unfortunate animal to suffer in, and woe to any animal that so much as looks sideways at a cow.
Naturally, the Game Commission is suing the feds ("NM to sue to block release of wolves" Albuquerque Journal, April 21) over the planned release of a pack of wolves into New Mexico sometime this year. The reason, the same one given every time they obstruct the wolf recovery plan, is cited once again in the article: " "¦ there is no updated wolf recovery plan in place."
What is clear is that no plan will ever be satisfactory for this commission when it comes to the lobo, unless it involves giving them control of the wolves.
Kudos to feds for wolf release
THANK YOU for Deborah Baker's article ("NM to sue to block release of wolves," April 21) and for keeping our native lobos in the spotlight.
As an avid wildlife enthusiast and advocate, I believe that the U.S. Fish & Wildlife Service should be commended for proceeding with its plan to release wolves into the wild despite opposition from the state-run Game Commission. An October 2015 ruling exempted the agency from complying with state permits, freeing the F&WS to go forward with its program and release more captive-bred wolves in order to address the urgent need for genetic diversity.
Long criticized for backing down and making concessions to the Game Commission, the F&WS is now being criticized for its plan to release one wolf family compared to its original plan to release up to 10 wolf pups and one mating pair.
We should show our support instead of complaining. For too long, the Game Commission denied the F&WS permits for any wolf-related project. They adamantly refused to fund an updated wolf recovery plan while citing the very lack of one as their reason to deny the agency permits.
I invite readers to visit the Game (Commission's) website. Read the biographies of the (Gov. Susana) Martinez-appointed (commissioners). The commission, which chose to withdraw from the wolf-recovery program soon after the governor was elected, is primarily funded by hunting, trapping and fishing licenses which, according to their web page, provides nearly $20 million annually.
This year marked the first time in five years that the wolf population declined by 12 percent, from 109 at the start of 2015 to 97 at the start of 2016. New Mexico's current wolf population, both captive and wild, are direct descendants of seven wolves that were a result of a captive-breeding program. The ensuing lack of genetic diversity bodes ill for the already fragile population. Studies have already shown that inbred, wild wolves have smaller litter size and wolf pups that often die before they can mature.
Dan Ashe and the U.S. F&WS demand kudos, not criticism, for their plans to go forward before it is too late to do so.
Time to stop grazing subsidy
DOMESTIC LIVESTOCK are private property using our public lands as a privilege, not as a right, so says the U.S. Supreme Court.
Ranchers use our lands at a subsidized rate of around $1.40 per month for a cow and calf. Adjacent private lands go for around $10 per month. The difference is a subsidy that you and I absorb. Mexican wolves are a native species owned by the public on our public lands. Each national forest has a forest supervisor who has oversight over the "use and occupancy" of a national forest. The states are given the role of management of fish and wildlife on national forests by an agreement with the states. The bottom line, however, is that the Forest Service has ultimate responsibility for all uses on our national forests, including Mexican gray wolves.
Economic analysis shows that the Forest Service spends $10 for every $1 revenue from grazing fees. I, for one, am fed up with ranchers dictating how my public land is to be used. Economics also show that no livestock grazing is a much better deal as compared to grazing and the wide range of damage cows do to our streams, soils and vegetation on our lands.
If there are conflicts between livestock grazing and our wildlife — wolves, then cows should go. I don't want to subsidize the ranchers' way of life at the environmental and economic costs that we all pay for cows on our public lands.
Commission fails to do its job
THIS LETTER IS in response to your recent article on the Mexican wolf recovery program ("NM to sue to block release of wolves," April 21), which involved the introduction of two captive-born pups into a wild pack, lawfully carried out by the USFWS and Endangered Wolf Center of St. Louis.
What is extremely disturbing about this report is the attitude (the New Mexico Department of Game and Fish)has toward reintroducing this important species back into the state. At last count, there were only 97 Mexican wolves living in New Mexico and Arizona, with 47 of those in our state. This makes them a critically endangered species doomed to extinction without strong intervention and cooperation between state and federal agencies to ensure their survival. This is not an issue of ignorance on the part of NMG&F, but of gross negligence to properly do their jobs.
The fact NMDG&F opposes the recovery program is yet another example of incompetence of that agency, at the helm of yet another director — Alexa Sandoval — driven by special interest groups — namely, ranchers and hunters that lack a conservation-oriented mindset. The (New Mexico State) Game Commission is comprised of seven people, all of whom are avid hunters. There are no biologists or environmentalists on the commission, no one representing the interests of New Mexico. residents who advocate for animal protection.
The Game Commission does not represent the interests of the majority of New Mexican who support the Mexican wolf recovery program. NMDG&F has not, in recent history, done population studies of any species, has never done habitat suitability models, nor conducted field research to determine the needs of wildlife. Their management style is a reflection of the Jeffersonian utilitarian natural resource management strategy established in the early 1800s. Really? Has New Mexico not evolved at all in the past 200 years? It's time for NMDG&F to enter the 21st century and use a little brain power to figure out how people can coexist with other species that are trying to survive in shrinking habitats because the overpopulated human species has stolen away their homes.
Wildlife rehabilitator, wildlife nutritionist, animal advocate
PLEASE WRITE A LETTER TO THE EDITOR TO SHOW
YOU STAND WITH WOLVES TOO!
Letters to the editor are powerful tools read by the public and policy makers.
Here are two recent articles, as well as letter to the editor talking points and submission info.  (Updated 6/20/16)