Game And Fish Dept. Ordered To Return To Mexican Wolf Program Discussions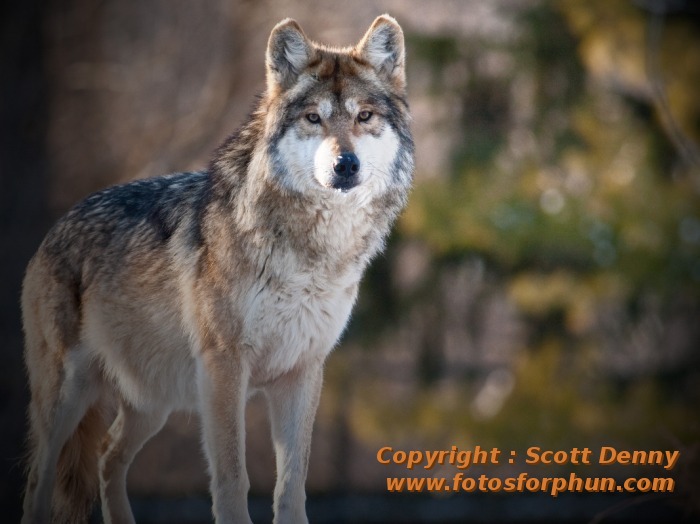 The team of agencies managing the Mexican grey wolf recovery program has a new player, or rather, a returning one.
The New Mexico Game and Fish department was ordered this week by the state Game Commission to return to the negotiating table nearly two years after pulling out of discussions about proposed rule changes.
Michael Robinson with the Center for Biological Diversity said he's concerned this means Game and Fish officials are going to try to actively thwart the program, which aims to reintroduce the endangered Mexican grey wolf in southern New Mexico and Arizona. "They have already shown they are hostile to wolves," Robinson explained, "certainly under this administration. It bodes poorly for what that new rule would look like."
The program is controversial largely because ranchers in the area say they lose too many cattle to hungry wolves.
The US Fish and Wildlife Service will host a public comment hearing next Friday, October 4th, in Albuquerque on several proposed rule changes including listing the Mexican grey wolf as an endangered subspecies.
This story appeared on

KUNM online

on September 27, 2013.
~~~~~~~~~
The below articles cover the New Mexico Game Commissions return to the wolf recovery program.
NM Commission Votes to Take Part in Wolf Planning
Las Cruces Sun-News, September 28, 2013
Fish and Wildlife Investigating Dead Wolf Found Near Gila Wilderness
Las Cruces Sun-News, September 27, 2013
PLEASE TAKE ACTION FOR MEXICAN WOLVES
Please submit a letter to the Editor of the Las Cruces Sun-News to ensure the future of critically endangered Mexican gray wolves today!
One letter from you can reach thousands of people and will also likely be read by decision-makers.  Tips and talking points are below, but please write in your own words, from your own experience. Don't try to include all the talking points in your letter.
Talking points

Start by thanking the Las Cruces Sun-News for this article.

While giving Mexican wolves their own Endangered Species Act listing is long overdue, delisting gray wolves throughout the U.S. is counter to protecting Mexican wolves.

The  proposed rule will leave gray wolves unprotected in places that scientists have said are needed for Mexican wolf recovery, making it more difficult to protect Mexican gray wolves even if they are allowed to expand into new areas.

Delisting gray wolves throughout the lower 48 is premature and unsupported by science.

The gray wolf has barely begun to recover or is absent from significant portions of its former range where substantial suitable habitat remains.  The very scientists whose research is referenced in the draft rule to remove the gray wolves' protections have stated publicly that the science does not support the delisting.


The USFWS should move forward with allowing new wolves to be released throughout the Blue Range Wolf Recovery Area

. The Mexican gray wolf is the most endangered mammal in the U.S. with only about 75 in the wild.  Additional wolves must be released into the wild now to increase the genetic health of the species. Numerous wolves are in captive breeding facilities around the country, prepared for, and awaiting, release.
Wolves once lived throughout Arizona and New Mexico and played a critical role in keeping the balance of nature in place

. We need to restore this important animal that has been missing for too long.
Wolves need freedom from boundaries.

Given room to roam, the wolves will establish themselves in suitable areas with adequate game. The USFWS proposal does not allow wolves to establish new packs and populations in additional areas that are essential to their recovery.
The livestock industry has a responsibility to share public lands with native wildlife like wolves

. According to the US Dept of Agriculture, in 2010 only .23% of cattle deaths and 4% of all sheep deaths were due to any type of predator, which includes a lot more than just wolves.There are many proven-effective methods for avoiding conflict.

Make sure you:
Thank the paper for publishing this article.

Include something about who you are and why you care: E.g. "I am mother, outdoors person, teacher, business owner, scientific, religious, etc.)

Provide your name, address, phone number and address.  The paper won't publish these, but they want to know you are who you say you are.
Thank you for speaking out to save Mexican wolves!

________________________________________________________________________________________________________

_____________



Click here to join our email list for Mexican gray wolf updates and action alerts. 
Visit us on Facebook here.