Forest Planning Affects Wolf Habitat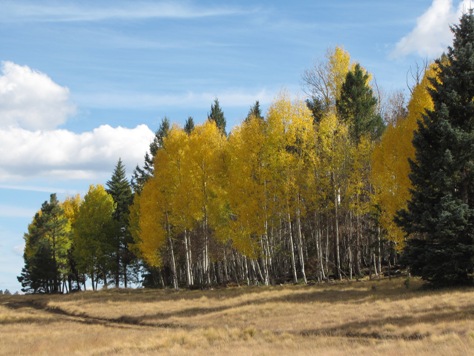 Our National Forests provide critical habitat for our Mexican Wolves.  The Blue Range Wolf Recovery Area includes public lands in both the Apache-Sitgreaves and the Gila National Forests.  Those of us who work to ensure these magnificent creatures thrive need to be sure we work to protect their habitat.
There are currently three processes underway that could affect the health of our National Forest:
1. Travel Management – Public participation is needed right now to protect lobos!
In November 2005, the Forest Service announced the travel management rule that requires each National Forest to designate where on the forest the public can operate motor vehicles.  The rule was developed in reaction to the Forest Service Chief's identification of unmanaged recreation as a key threat to the health of the nation's National Forests.
When implemented, a free-of-charge map will be provided that displays the designated system. General use off the system will then be considered prohibited. This rule requires all forests to end the extremely damaging practice of off-road vehicle cross-country travel (though small play areas are still allowed).
The Draft Environmental Impact Statement (DEIS) for the Apache-Sitgreaves National Forest has been released. The public has 45 days to comment. Nearly all of the illegal killing of wolves occurs near roads.   We need to tell the Forest Service that too many roads fragment wildlife habitat and put wolves at risk.  We also need to pressure the Forest Service to close roads that are near known den sites and rendezvous sites.

Please Attend an Open House and Share your Concerns
Tell the Forest Service:
-The range of alternatives does not protect our forest
-Protection of the forest for future generations needs to be the priority
-Protect traditional means of game retrieval and eliminate motorized options
-Keep our waters save closing roads and campsites too near to our precious watersheds
-Protect the majority of forest users who enjoy wildlife viewing, natural vistas, and hiking.
-Minimize wildlife habitat fragmentation
 
Open House Schedule:
November 8
 Lakeside
 Whipple Ranch Elementary School
 4:30-7:30 p.m.
 
November 10
 Alpine
 Alpine Community Center
 4:30-7:30 p.m.
 
November 15
 Overgaard
 Navajo County Mogollon Complex
 4:30-7:30 p.m.
 
November 16
 Clifton
 Clifton Railroad Depot
 4:30-7:30 p.m.
 
November 17
 Springerville
 Forest Supervisor's Office
 4:30-7:30 p.m.
 
 Other opportunities to protect lobo habitat are coming up:
2. Forest Planning Rule
This rule provides guidelines that forests across the nation use when creating their Forest Plans. Included in the rule are the types of concerns that each forest must address in its management plan. Forests are now operating under the 1982 rule that focuses on many traditional uses of the forest, including grazing and logging and to a lesser extent wildlife management, recreation, and water resources. We hope that the new rule will expand planning guidelines to include the role of sustainable forests to mitigate climate change, encourage forest restoration, promote watershed health, and contribute to vibrant rural communities. We need to be sure the Forest Service recognized the critical role large predators play in a healthy ecosystem.  We need guidelines that put endangered species like our wolves first. 
We expect that the new Forest Planning Rule will be released late in 2011. Public meetings to gain citizen input have already been held but there will be more opportunities for you to influence the process. We will keep you posted as these opportunities arise.
3. Forest Planning
Each National Forest is charged with creating a new management plan every 10 to 15 years. The Planning Rule (described above) provides the umbrella of issues each forest must address as it creates a specific management plan for a particular forest. The plans in most Arizona forests and NM forests are already well over 15 years old and badly in need of revision.
Next spring, the Apache-Sitgreaves Forest will finalize alternatives and begin analysis and development of the DEIS (Draft Environmental Impact Statement) and the Draft Plan. The DEIS for the Apache-Sitgreaves plan revision is scheduled for release in the spring, 2011. The public will have 45 days to comment on this plan. We will send out announcements about when and how to make your opinions on habitat for endangered species known.
Decisions made over the next two years will affect the habitat of Mexican gray wolves in the Apache-Sitgreaves National Forest for years to come. Your input into these three processes is critical. We urge you to take every opportunity to make your voice heard through written comments and by attending public meetings.
Mexicanwolves.org will continue to keep you posted on these issues affecting our critical Mexican wolf habitat. We all need to take action to ensure the health of our Forest for generations to come.