Follow the Pack Update, January 20, 2011
Follow the Pack made two trips to the Mexican wolf recovery area this winter, one in mid-December and one in early January. Snow made finding tracks much easier than it was during the summer and fall.
On a visit to the home range of the Hawk's Nest pack in Arizona shortly before Christmas, we found the tracks of several wolves along snowy forest roads. One line of tracks led to a reflective road marker, where the wolf left a scent mark of urine. After leaving its mark, the wolf returned to the road, where walking is easier. We often observe this behavior when there is snow on the ground.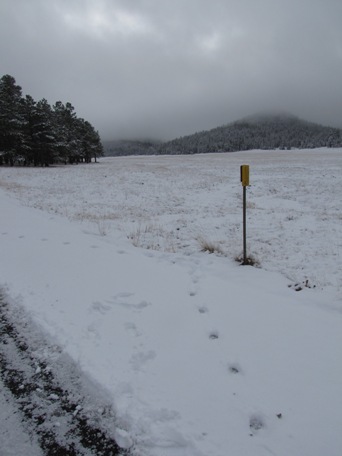 Mexican wolf tracks lead to a road marker, where the wolf left its scent mark.



Mexican wolf tracks on a forest road in Hawk's Nest home range.
In early January, we returned to the home range of the Middle Fork pack in New Mexico. We found no wolf tracks, but the footprints of elk, coyotes, wild turkey, rabbits, mice, and ravens were everywhere. Coyotes howled every morning and evening.

Coyote tracks in Middle Fork home range; East Elk Mountain and O Bar O Mountain in background.
We found many more tracks on a return visit to Hawk's Nest territory. This time we saw some of the animals that made them, including these elk. Elk are the main prey animal for Mexican gray wolves.

Elk grazing and resting at dusk.
Although we saw and heard no lobos, we enjoyed hearing coyotes howl and observing elk and pronghorn in the snowy grasslands. It was fun to try to figure out who made the many trails of tracks we found in the snow. Most of all, we enjoyed camping and hiking in the peace of winter, when it is so still that the wing beats of ravens can be heard, as the big, black birds fly overhead. We'll definitely be making another winter trip in 2011!

Watching for pronghorn from our campsite in Hawk's Nest territory. Escudilla Mountain in the background.

Photo of wolf tracks with ruler by Billie Hughes. All other photos by Jean Ossorio.