Film – Lords of Nature: Life in a Land of Great Predators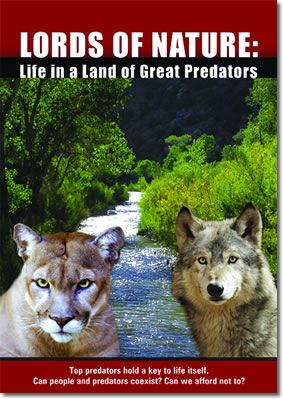 Top predators may hold a key to life itself.
Can people and predators coexist? Can we afford not to?
Birds, butterflies, beaver and antelope, wildflowers and frogs — could their survival possibly be connected to top predators like the wolf and cougar? Narrated by Peter Coyote, Green Fire Productions has created a captivating documentary that goes behind the scenes with leading scientists to explore the role top predators play in restoring and maintaining ecosystems and biodiversity.
Wolves and cougars, once driven to the edge of existence, are finding their way back — from the Yellowstone plateau to the canyons of Zion, from the farm country of northern Minnesota to the rugged open range of the West. LORDS OF NATURE: Life in a Land of Great Predators tells the story of science now discovering the great carnivores as revitalizing forces of nature, and a society now learning tolerance for the beasts they had once banished.
Filmed in high-definition, 60 minutes. LORDS OF NATURE is a documentary and education campaign about the vital ecological role large predators play in restoring the health of America's wild ecosystems.
The schedule below is from the Lords of Nature Website
September 13 and September 21 – Durango, Colorado – 5:30PM
Fort Lewis College
1000 Rim Drive
Center of Southwest Studies Lyceum Room 120
Both screenings are free and open to the public.
Screenings and panel discussions are presented as part of the fall nature series by Center of Southwest Studies,  a program of Fort Lewis College; Colorado Division of Wildlife; Durango Nature Studies; Durango Public Library; La Plata County Living with Wildlife Advisory Board; San Juan Mountains Association; San Juan Public Lands Center.
Funding for the series provided by The Scholl Foundation.
For information on the screenings or the fall nature series, call Julie Tapley-Booth, Event Coordinator – Center of Southwest Studies, Fort Lewis College – 970-247-7456 
 
 
September 14 – Kelowna, British Columbia – 7:00PM
Evangel Church
3261 Gordon Drive
Free screening
Presented by Central Okanagan Naturalists' Club of Kelowa  and Conservation Northwest 
 
 
September 25 – Sag Harbor, New York – 4:00PM 
The Hamptons Conservation & Wildlife Film Festival
Bay Street Theatre
One Bay Street
Series 4
Chris Spatz of the Eastern Cougar Foundation will address the audience following the screening.
Please check the Festival web page for additional information.
 
 
October 19 – Missoula, Montana – 7:00PM
UC Theater, University Center
University of Montana
Free screening
Presented by Western Wolf Coalition
For additional information, please email Derek Goldman or call 406-549-2848 x-2. 
 
 
November 5 – Cartersville, Georgia – 3:00PM
Green Highlands
5441 Hwy 20 NE
A free screening presented as part of CelEARTHbration
For additional information, please email Samijo or call 770-881-4140.