Environmental Group Files Suit To Classify Mexican Gray Wolf As Subspecies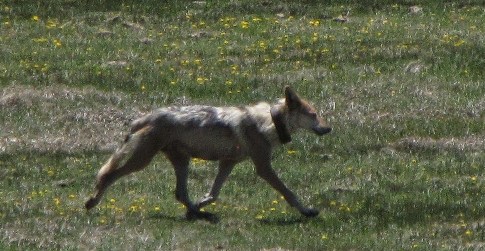 The Tucson-based environmental group Center for Biological Diversity has filed another
lawsuit as they push for reforms of the federal government's Mexican gray wolf reintroduction program.
The latest lawsuit centers on a recent decision by the U.S. Fish and Wildlife Service to reject a 2009 petition filed by the center that sought the classification of Mexican wolves as an endangered subspecies, or separate population of gray wolves.
Michael Robinson, a Conservation Advocate with the center, says specific protection is needed for wolves living in the wild in Arizona and New Mexico. He says the lawsuit is an attempt to force federal wildlife officials to develop a recovery plan for the Mexican gray wolf, which it won't do until it's listed separately on the Endangered Species List.
"One of several rationales that the federal agency has advanced is that because the Mexican gray wolf is not on the federal engendered species list in its own right, that they can't complete a recovery plan," says Robinson. "So we're trying to provide the conditions that the agency itself has stated is necessary to move forward on a recovery plan. And that recovery plan would guide management."
The latest suit follows one filed by the center last month that focuses on recommendations made by a scientific panel more than a decade ago. That complaint alleges that federal wildlife officials have failed to consider those recommendations.
Robinson says Mexican wolves are the smallest, most genetically distinct of all gray wolves in North America and are uniquely adapted to the arid Southwestern U.S. He says the Mexican gray wolf has been identified as a separate species on both genetic and taxonomic grounds.
Read the full story at Arizona Public Media here.
Download this story as MP3

A similar story appeared in the Las Cruces Sun-News.
CLICK HERE to join our email list to stay informed and get more involved with efforts to recover Mexican wolves from the brink of extinction.
Photo courtsey of Jean Ossorio