Endangered Mexican Gray Wolf Shooting Threatens Species Recovery Efforts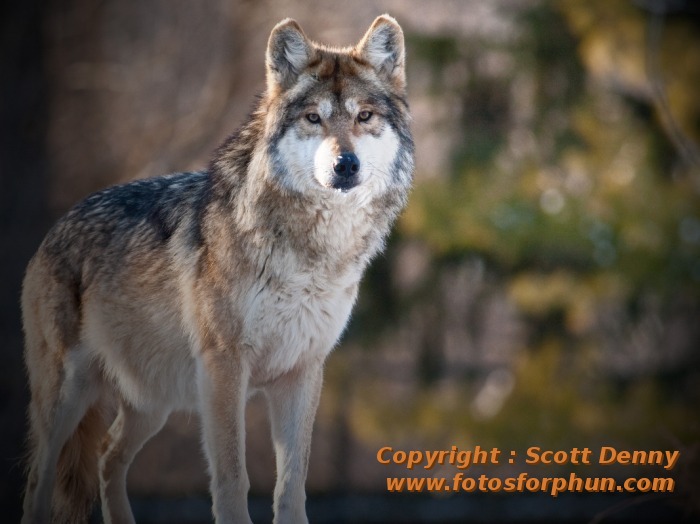 Mexican gray wolf recovery efforts received yet another blow when an alpha female, known as F1108, was shot and killed. … reports the LA Times.
So far, federal and state officials aren't saying much about it, other than that they are investigating.
This tragedy has raised even more concerns about recovery efforts and the Mexican gray wolf's ability to survive with so few left in the wild. With an estimated 75 in the wild, with only two breeding pairs, F1108 and her pups had raised hopes for the species. With her death and news of her mate, M1133, being recaptured for wandering outside the recovery boundary in New Mexico, things are once again looking bleak. This also means that there have been no successful releases of Mexican gray wolves this year.
Mexican gray wolves were once abundant in vast portions of the Southwest and Mexico, but were eradicated by the 1900s. In 1976 they were listed as an endangered species, and bi-national recovery efforts began. Yet despite starting the Mexican Wolf Recovery Plan in 1982, there are still few in the wild. Those few remain vulnerable to a host problems ranging from a lack of genetic diversity, diseases and natural disasters to being killed by humans; at least 50 illegal killings have been documented since reintroduction efforts began in 1998.
Since the first 11 Mexican gray wolves were released that year in the Blue Range Wolf Recovery Area in Arizona, work on a full recovery plan has been delayed again and again while their presence in the wild has been continuously opposed by ranchers who don't want to see them return, despite being compensated through public and private funds for any losses they incur as a result of predation.
Meanwhile, the species' struggles have continued. The population was expected to be more than 100 by 2006, but it has still not reached that number, and 15 years later the recovery plan still isn't finished. Combine that with incidents like the latest shooting of a female with pups, continued efforts to eradicate them entirely, killings by federal employees, attempts to kill the recovery program, legalized trapping in wolf recovery areas, years between

releases

, and questionable releases and recaptures, and it starts to feel like it may be decades longer before they have a solid foothold.
Now, while Mexican gray wolves may receive special protection under the Endangered Species Act as an endangered subspecies, the U.S. Fish and Wildlife Service (FWS) has proposed rules concerning them that have their advocates concerned, despite plans to delist gray wolves in the lower 48.
The proposal includes allowing direct releases of wolves in the Blue Range Wolf Recovery Area, which has been hoped for, but it will also designate existing wolves as an "experimental, non-essential" population. Under the FWS' logic, even if those in the wild completely disappear, it won't hamper recovery efforts; but wolf advocates disagree.
According to Mexicanwolves.org, there were only 11 wolves in the wild when they were originally declared nonessential; if something had happened to them, it may not have been the end. But now there are up to four generations who have experience establishing packs and raising pups and with such a small gene pool to work with, protecting the ones who are already surviving is vital to their recovery.
The rule also prevents wolves from expanding their habitat into suitable areas in Arizona, Utah, New Mexico and Colorado. Currently, any wolves who leave the recovery area are recaptured and put back. Not only does this stop them from establishing new territories and moving between populations, but captures can be traumatic and end in death.
Advocates also argue that a full recovery plan needs to be finished before any new decisions or proposed rules are set in place; 1982's recovery plan just isn't going to cut it.
According to Nancy Gloman, Vice President of Field Conservation for Defenders of Wildlife:
If the Mexican gray wolf is to have any chance at survival, the Fish and Wildlife Service must ramp up recovery efforts with a comprehensive plan that includes the release of many more wolves into the wild, and affords those that are released with protection outside of arbitrary lines on a map. Without being allowed to disperse, the wolves cannot establish the numbers and new populations necessary to win the fight against extinction.
The FWS is accepting public comments on the proposed rule until September 11, 2013.
This article was published by Care2.
For more information and talking points CLICK HERE.
Click here
to join our email list for Mexican gray wolf updates and action alerts.
Visit us on Facebook
here
.