Current Events in the Blue Range Wolf Recovery Area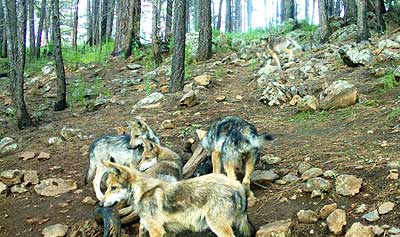 Dark Canyon Pack – Cross Foster Wolf Pup Update
Late August 2014
Mexican Wolf Interagency Field Team trail cameras continue documenting five pups with the Dark Canyon pack in the Gila National Forest in New Mexico. On May 15, two pups from the Coronado pack were placed into the three-pup litter of the Dark Canyon pack with the hope that the Dark Canyon pack would raise them as their own. This is the IFT's first attempt at cross fostering and was done to introduce genetically desirable pups into the litter of an experienced female and wild-proven pack. The continued documentation of five pups remaining with the Dark Canyon pack is evidence the cross fostering attempt was successful. Updates on this pack are provided in the BRWRA Monthly Project Updates.
Coronado Pack Update
August 2014
The Coronado Pack self-released out of the McKenna Park soft mesh pen several days after being placed in the pen by Wolf Project personnel. In the photo the alpha female 1126 remains in the pen while the alpha male 1051 and several pups are outside the pen. All the members of the pack have since left the pen site and have been consistently located together in the Gila Wilderness. Wolf Project personnel have remained in the wilderness monitoring the pack closely, following the translocation. The Coronado pack is being provided a supplemental food cache to assist with their transition to the wild. For additional information regarding the status of the Coronado pack please visit Recent Wolf Locations and BRWRA Monthly Updates (located on the Wolves in the Wild webpage).
This post and photos are from the U.S Fish & Wildlife Service website.

******************************************************************************************************
ACT NOW!  Endangered Mexican Wolves Need Your Help!
SUBMIT COMMENTS TO ENSURE THE FUTURE OF THE MEXICAN WOLVES HERE.


__________________________________________________________________
Click here to join our email list for Mexican gray wolf updates and action alerts.
Visit us on Facebook here.
Donate to support our work for Mexican gray wolf recovery here.