Critics: Game commission puts predators in 'bull's-eye'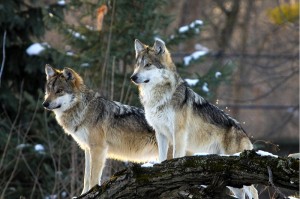 Jan Hayes, founder of the 2-decade-old nonprofit Sandia Bear Watch, said for years she had a decent working relationship with the state Department of Game and Fish, even when she didn't agree with the agency or its commissioners.
Then Gov. Susana Martinez's administration arrived and everything changed, she said.
"They don't listen to any common sense, or reason or anything else now," Hayes said from her home in Tijeras.
The opposite viewpoint comes from Caren Cowan, executive director of the New Mexico Cattle Growers' Association. She says the Game Commission is finally doing something to protect livestock and agricultural interests, especially from cougars.
"We know there are too many and we need to find a way to reduce them," Cowan said. "We don't want to get rid of all of them."
In the last five years, the seven-member State Game Commission appointed by Martinez has made decisions that some sportsmen and animal rights groups say have put predators in the bull's-eye like never before, even as ranchers and other sportsmen cheered those changes.
The makeup of the commission is once again in the spotlight as it considers the department's controversial recommendation to increase kill limits on bears and cougars, a move opponents say is shortsighted and lacking in updated science.
Republican state Rep. Jim Smith, a wildlife biologist and retired teacher from Sandia Park, is among those questioning the department's recommendation. But to him, the debate about predators is less a political divide than an urban and rural one. "There are Democrats and Republicans on both sides of this issue," Smith said.
Garrett VeneKlasen, executive director of the New Mexico Wildlife Federation, a sportsmen group, said regardless of where the public stands, the game department needs to remain objective.
"On one side are extreme wildlife advocates that don't want a single animal killed," VeneKlasen said. "On the ag side are radicals that say there shouldn't be a single sharp-toothed predator. Game and Fish needs to be in the practical middle."
The principals
The state Game Commission is composed of two lawyers, a former director of the game department, a middle school principal, the Philmont Scout Ranch manager, a businessman from Farmington and a pecan farmer. All are hunters. One is attorney Elizabeth Atkinson Ryan, who specializes in oil and gas issues and is the only woman on the commission.
In 2009, the year before voters first elected Martinez as governor, the commission consisted of two ranchers, two avid anglers, an optometrist, the regional director of the National Wildlife Federation and Sandy Buffet, then director of Conservation Voters of New Mexico and the only woman.
Martinez's selections for the commission have been in the thick of political controversies this year. To the delight of ranchers, the commission denied for the first time in nearly two decades two permits that would have helped the Mexican gray wolf reintroduction program. Mexican gray wolves are a threatened subspecies, with slightly more than 100 living in the wild.
More changes loom. The game commissioners on Aug. 27 will vote on a proposal to increase kill limits for cougars and bears and expand trapping as recommended by game department staff. The state updates the hunting rules every four years. If the commissioners approve the changes, some say, their decision will be because of pressure from ranchers and not based on science.
"The department is getting political pressure down south [from ranchers] to hunt the cougars," said Bill Lewellen, a Southern New Mexico outfitter, guide and cougar hunter for more than two decades, who believes the department has far overestimated the number of the big cats in the state.
Game and Fish Department staff members say they are managing cougars and bears for long-term sustainable populations, boosting hunting opportunities and protecting livestock and people from predators. They say 30 years' worth of studies and data back up the decision to allow more kills.
The department has posted a summary of a recent three-year bear study on its website, but a more complete study is still being readied for publication, according to James Cain, III, a wildlife biologist with the U.S. Geological Survey, who was part of the team. Smith says the complete bear study should be made available to the public before the commission uses it to make decisions.
"We want more transparency in government, not less," Smith said. "Plenty of people can analyze the data."
The seven commissioners did not respond to requests for comment or declined to comment.
Controversy over wolves
The commission's reversal on the wolf program has been stark.
As late as November 2010, the department was still working with the U.S. Fish and Wildlife Service on the Mexican Wolf Reintroduction Program, asking for help in determining how traps were affecting the wolves in the wild. The agency faced heavy criticism over the wolf program from ranchers in Western New Mexico's Catron County.
In 2011, under new Game and Fish Department Director Jim Lane, the state pulled out of the multiagency team working together on New Mexico's wolf recovery program. In September 2013, one month before Lane quit, the Game Commission voted to rejoin the team.
A new alternative
Along with increasing kill limits on bears and cougars, the department has recommended allowing people to trap and foot-snare cougars on private land with the landowners' permission but without a special permit from the state, as currently required. The recommendation would limit cougar hunting and trapping from Nov. 1 to March 31.
The department also proposes to allow trapping on 9 million acres of state trust land at the request of State Land Commissioner Aubrey Dunn, a Republican from Lincoln County.
The department proposed an alternative hunting rule Aug. 5 that leaves cougar trapping open year-round but limits it to private land with the landowner's and game director's approval.
The alternative rule would continue to count only sport-hunted cougars and bears in kill quotas, and not those animals killed by disease, by cars or by ranchers.
"The current proposals for the bear and cougar rule are based on estimates of bear and cougar densities, habitat availability and data collected during multiple research projects over the last three decades," said a department spokesman in an email. Changes to the kill limits take into account predator damage to livestock and to humans.
The department has received 1,200 nuisance reports since 2012. A nuisance report can include everything from a bear getting into trash cans to a cougar snatching a calf.
Lewellen, VeneKlasen, Smith and even Hayes of Sandia Bear Watch aren't opposed to hunting cougars and bears. They say it is a necessary management tool for the game department and for ranchers. They just aren't convinced the department's proposal is based on reliable data.
Bear population
Obtaining a reliable estimate of bear and cougar populations is tough, say scientists and sportsmen. Bears are solitary, unless they have cubs, and they roam widely. Estimating their numbers depends on gathering hair samples for DNA testing and estimating how much good habitat is available.
Lewellen, the outfitter, doesn't quibble with the department's bear estimates and says there seem to be more black bears on the landscape than when he was a teenager. Ranchers, especially in Catron and Lincoln counties, agree and more than once have asked the Game Commission to open up a spring hunt to reduce bear populations.
But Hayes and Smith said they believe the recent study overestimates the number of bears in the Sandia Mountains, near where they live.
Hayes was part of the group that fostered the first comprehensive black bear study published in 2001 that the department still refers to today. She worked with the department on reducing kills of sows and educating the public about coexisting with bears.
Hayes and the department staff had a falling out a couple of years ago, when she wanted to put out feed for bears in the mountains during the drought so they wouldn't wander down into neighborhoods for food. Predator biologist Rick Winslow said leaving food for the bears would habituate them to humans, the very thing the department wants to avoid.
The department's refusal to try Hayes' idea, coupled with the increase in bear kill limits, was the last straw for her.
Since 1991, the department has spent nearly $1.5 million on two studies of black bears, including one finished this year.
The recent three-year study, conducted by a team of scientists and a doctoral candidate, found more bears than previously estimated by the department in some areas, such as the Sangre de Cristo and Sandia mountains, but fewer in other areas, such as the Sacramento Mountains. The study used DNA testing on bear hair samples collected at scent lures and natural bear rubs as one tool in estimating the bear populations in each of five mountain ranges.
The department's records show the number of bears killed by hunters jumped in 2011 to its highest level in a decade. The number of bears killed for preying on livestock more than doubled from 2011 to 2014, as did the number killed by cars and other factors.
Weather may have had more to do with the increase in kills than politics did. The state was in the midst of a five-year drought, which cut food supplies for bears and sent the hungry animals down in droves into towns, causing conflicts with people.
But after Game and Fish Director Lane suddenly resigned in October 2013, the number of bears killed for sport and other causes all dropped the following year.
Hunters are allowed to kill up to 640 bears this season, including 277 females, across the state. The department wants to increase the total number of bears hunters can kill each year to 804 for the next four years. The department estimates there are 7,989 bears statewide.
Hayes says the department needs to go back to including in the kill limits the bears that die from causes other than hunting. "A dead bear is a dead bear," Hayes said.
Counting cougars
The department has said in recommending higher kill limits on cougars that it is trying to protect people, livestock and endangered bighorn sheep.
VeneKlasen, hunter and executive director of the New Mexico Wildlife Federation, said the proposal is political. "It is being driven by a small segment of the agriculture community. There's no real science behind the decision on cougar hunting and no data to support that livestock depredation by cougars is increasing."
Lewellen said if the State Game Commission approves the relaxed trapping and leg snare rule for cougars, it will come back to haunt them. "I'm totally against trapping and foot-snaring professionally and practically," said Lewellen, whose livelihood depends on understanding the big cat. "I think it is going to give the Game and Fish Department a black eye. They're going to get a lot of negative press, and it won't really change the number of cougars harvested."
Cowan of the Cattle Growers Association says that, regardless of what others want to believe, ranchers are seeing more cougars and losing cows and calves to them. "There is always a need for more science," Cowan said. "But the mere sightings of cougars indicate more cougars."
She said a calf is worth $1,000 or more and a cow is worth $2,000 or more to a rancher. "Even if it is only one taking [of a calf or cow], it is not inconsequential."
Cowan admits that her small staff doesn't keep track of the number of ranchers calling to report livestock killed by cougars, so she doesn't have hard data.
Cougars became a state-protected species in 1971, and the first limits on kills were set in 1999. Hunters can kill up to 750 cougars a year. Of those, 303 can be females.
Hunters have bagged less than a third of the cougars allowed statewide in the last several years. Ranchers say that's a reason to increase the limits and allow more trapping on private land without permits.
Department of Game and Fish biologist Elise Goldstein told the commission in May that the population estimates are difficult. Cougars are considerably harder to study than bears, wildlife biologists say. They are nocturnal, stealthy and don't go for lures the way bears do, so it's harder to collect hair samples.
Asked by a commissioner if the harvest limit should be increased, she said, "We don't have any additional biological data to support increasing it," according to the minutes of the meeting.
She said the department is about to undertake a large-scale, multiyear project with New Mexico State University, similar to the bear study.
Smith and Lewellen say the difficulty in meeting the kill limit is more likely a sign the cougar population is less than the department estimates. Based on what he's seen on the ground, Lewellen says 2,000 cougars or less inhabit New Mexico, more than a 1,000 below the state's estimate.
New Mexico wildlife managers are extrapolating from old, limited cougar studies and are constrained by finances in conducting broader, newer studies, said Ken Logan, carnivore biologist with the Colorado Parks and Wildlife Division. Logan conducted the 1995 New Mexico cougar study that officials still use to back up their current quotas for hunters.
"What is the cougar population in New Mexico currently? No one really knows," Logan said by phone from his Colorado office. "These are just best guesses."
~~~~~~~~~~~~~~~~~~~~
The letters to the editor page is one of the most widely read, influential parts of the newspaper. One letter from you can reach thousands of people and will also likely be read by decision-makers. Tips and talking points for writing your letter are below, but please write in your own words, from your own experience.

Letter Writing Tips & Talking Points

The actions of the New Mexico Game Commission in denying these permits are petty and violate the public trust. Governor Martinez needs to make this right by getting the Ladder ranch and USFWS permits granted.
For 17 years, Ladder Ranch has been an excellent partner in the effort to pull Mexican wolves back from the brink of extinction. US Fish and Wildlife Service must be able to release wolves into New Mexico to improve the dwindling genetic health of the wild population. New Mexico Game Commission has given no good reasons for denying the Ladder Ranch or USFWS permits because it has none-only a desire to block the recovery of these native wolves. These decisions should be reversed.
At last official count, only 110 Mexican gray wolves were found in the wild, making them one of the most endangered wolves in the world. Actions such as NM Game Commission's unwarranted denial of the Ladder Ranch and USFWS permits will only further complicate efforts to recover these rare wolves.
The New Mexico Game Commission, under Governor Martinez, has clearly become a tool of a small anti-wolf minority and its actions are out of touch with the majority of New Mexico voters who support wolf recovery and understand the important role top carnivores play in our ecosystems.
Wolves are a benefit to the West and are essential to restoring the balance of nature. Actions to interfere with the Mexican gray wolf's survival and recovery cheat us all of the opportunity to have wolves returned to their critical natural role.
Mexican gray wolves are unique native animals. They are the rarest, most genetically distinct subspecies of gray wolf in North America and the most endangered wolf in the world. State and federal agencies should do all in their power to move these special wolves away from extinction towards recovery. Instead, Martinez's Game Commission has chosen play politics with the wolves' future.
Wolves generate economic benefits – a University of Montana study found that visitors who come to see wolves in Yellowstone contribute roughly $35.5 million annually to the regional economy. New Mexico stands to benefit from wolf-related tourism, but only if the Mexican wolf reintroduction is allowed to succeed.
The livestock industry has a responsibility to share public lands with wolves and other wildlife. Wolves are responsible for less than 1% of livestock losses and there are many tried and true methods to avoid conflicts between livestock and wolves. Responsible managers and livestock owners emphasize conflict avoidance instead of scapegoating wolves.
The federal government nearly drove the Mexican gray wolf to extinction in the 1900's. We have a moral responsibility to do all we can to ensure these wolves do not go extinct and NM Game Commission is ignoring that sacred charge and their public trust responsibility.
Governor Martinez and her Game Commission should not be interfering with the rights of a responsible landowner to use his private land to aid wolf recovery.

Make sure you:

Thank the paper for this excellent editorial.
Submit your letter as soon as possible. The chance of your letter being published declines after a day or two since the article was published.
Do not repeat any negative messages, such as "so and so said that wolves kill too many cows, but"¦"  Remember that those reading your letter will not be looking at the article it responds to, so this is an opportunity to get out positive messages about wolf recovery rather than to argue with the original article.
Keep your letter brief, between 150-300 words.
Include something about who you are and why you care: E.g. "I am a mother, outdoors person, teacher, business owner, scientific, religious, etc." Don't be afraid to be personal and creative.
Provide your name, address, phone number and address.  The paper won't publish these, but they want to know you are who you say you are.
Want to do more to help save Mexican wolves?
Tell Governor Martinez: Stop Taking Aim at Endangered Wolves

Contact the Governor's office and request respectfully that she put an end to her Commission's anti-carnivore state wildlife policies, grant the Mexican wolf permit to Ladder Ranch, and rescind the rule giving the Commission this authority.

Calls are most effective: 505-476-2200
You can also sign a petition to the Governor here.
********************************************************************************************************
Rally for endangered wolves at the NM Game Commission meeting in Santa Fe on August 27th!
In the past few months, the NM Game Commission has repeatedly sought to obstruct Mexican gray wolf recovery by denying permits to Ladder Ranch and US Fish and Wildlife Service. Appeals of these bad decisions are on the agenda for the August 27, 2015 Commission meeting. The commission will also vote on their proposal to allow cougar trapping and to expand bear hunting in NM.
NM Game Commission Meeting and Rally
Santa Fe Community College
Jemez Room
6401 Richards Ave.
Santa Fe New Mexico
Click here for map
The rally is at 8 am
The Game Commission meeting begins at 8:30 a.m.
The bear and cougar rules and wolf agenda items are numbers 7-10

Please RSVP for the rally and/or meeting here.