Celebrate Love Wolfy-Style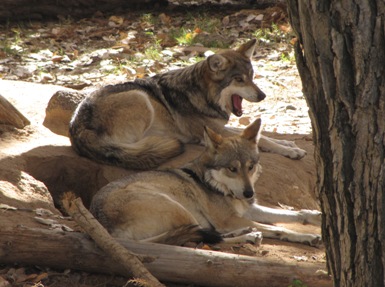 Great ways to show your love …
It's an exciting time for wolves and the Wolf Conservation Center– it's the season of romance! Hormones are racing and hopefully several courtships have already begun. We're keeping our eye on the WCC's
four breeding pairs
in hope that we'll see some of the following promising behaviors:
* nuzzling
* "prancing"
* wrestling
* parallel walking
* mounting
* rear sniffing
* tandem urination  –  this is true romance!
Wolfy-style not for you?
Why not give your loved one a gift that gives back to the wolves!  Send your sweetie a WCC Valentine's Day E-card or visit our Website Gift Shop for unique and affordable gifts.
It's okay to watch…
Most romantic activities occur behind closed doors, so our elusive wolves are unlikely to display amorous behavior for a crowd of spectators.  Thankfully, we need not rely entirely on eyewitness accounts, our
WOLFCAM
helps WCC staff, volunteers, and supporters, keep an eye on red wolves F1397 and M1483 in real time! These two lovebirds proved fruitful in 2010 and we're hoping that they are up for round two this season.
*****
Read more about Mexican gray wolves at the Wolf Conservation Center
here
.
THERE ARE STILL MEXICAN GRAY WOLVES IN THE WILD THAT HAVEN'T FOUND THEIR MATE YET.
Read this
sad article
about a Mexican wolf that was killed for looking for love in the wrong place.
Then, please WRITE A LETTER TO THE EDITOR!
The letters to the editor page is one of the most widely read, influential parts of the newspaper. One letter from you can reach thousands of people and will also likely be read by the U.S. Fish and Wildlife Service.