Buy a Shirt – Save Endangered Mexican Gray Wolf Families
Mexican wolves are highly intelligent and social animals. They live in multigenerational family packs.  The pack's survival is dependent on them working together in partnership to protect one another.  They also learn valuable hunting skills through play and interacting with stronger and weaker pack members. These are 'Wolf Family Values'.
Sale ends December 9
Proceeds will benefit our efforts to educate young people about the Mexican gray wolf, engage in grassroots advocacy to ensure Mexican gray wolves have the legal protection needed to recover and thrive and share the science of wolf ecology and conservation. By dispelling myths through science-based education and advocacy, we will ensure that Mexican gray wolf families will roam the Southwest for generations to come.
You can also add a donation to your purchase at checkout to help us continue our fight for the Mexican gray wolf's future.  Wildlands Network, is our fiscal sponsor and will ensure the proceeds go to support our efforts to keep wolf families wild!
Your purchase will help us keep wolf families wild!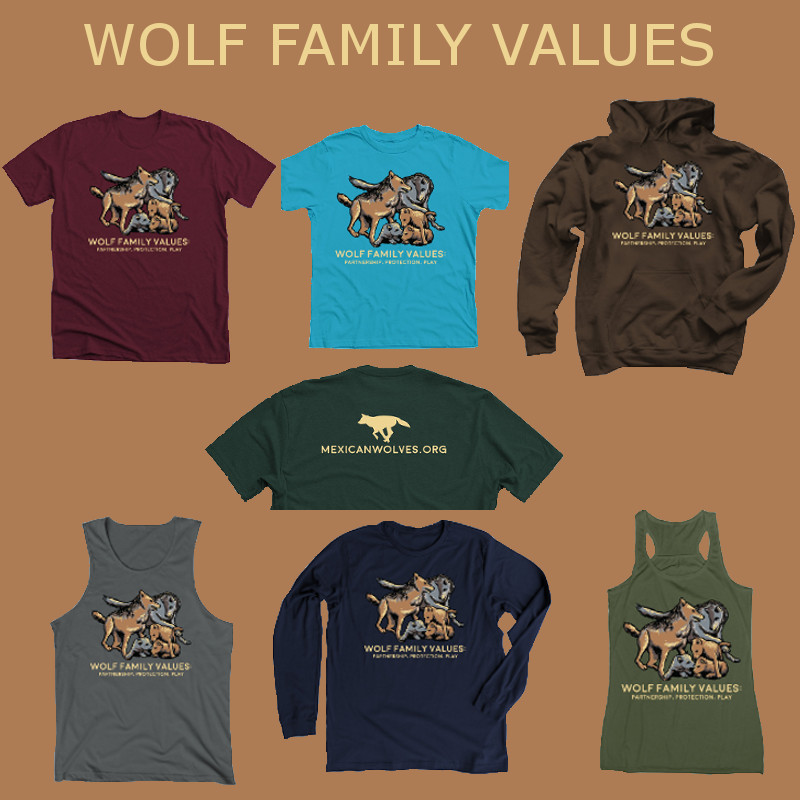 Shirts available in t-shirts, tank tops, long-sleeved shirts, sweatshirts, and hoodies. There are even youth options for the little ones in your life.
Great variety of styles and colors.
Some colors/styles available in 3XL and 4XL
Sale ends December 9