Bloggers Speak Out Against Extinction for Mexican Wolves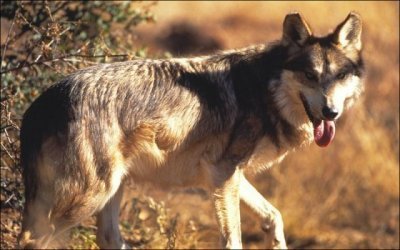 In response to the tremendous danger gray wolves and the Endangered Species Act are in from wolf extermination legislation in Congress, a range of bloggers are weighing in with calls to action. Some good ones are below.
Wolf Conservation Center
Wolves are in the News and Politics Again
Making Owls Cool
Wolves In Trouble
Demarcated Landscapes
Mexican wolf recovery: a classic hegemonic struggle?

The Wolf Preservation Blog
Interior Secretary Salazar and 3 Western Governors guarantee circumventing the Endangered Species Act!
Coyotes, Wolves, and Cougars "¦ forever!
Overturning proven Science in favor of biased Political and Business based thinking to potentially forever delist wolves from the Endangered Species Act?……..

WolfWatcher
U.S. wants to lift Protections for Wolf and Grizzly

Photo credit: Mexican wolf M190, Paquito, at Sevilleta Wildlife Refuge