Blog: Wolf Conservation Center to Host Two Mexican Wolf Breeding Pairs in 2012!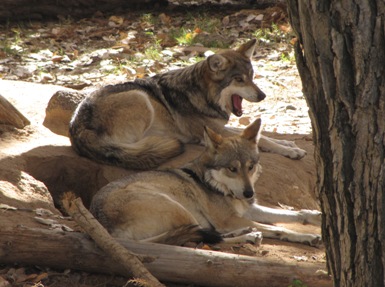 Although the Mexican Wolf Annual Meeting in Mexico City is coming to a close, the Wolf Conservation Center's (WCC) curator, Rebecca Bose, couldn't wait until her return home to share some excellent news! One of the chief items on the meeting's agenda is the determination of wolf breeding pairs for the 2012 season. During the meeting, the management group establishes which wolves should be bred each year by using software developed for the population management of endangered species. This winter there will be a total of five breeding pairs hosted in the U.S. and the WCC is incredibly honored to be the only facility to house two of the chosen couples! "¦
 
All four of these special lobos are genetically valuable individuals and they have been given this opportunity to breed because their offspring will increase the genetic diversity of their rare species and enhance that species' chance to survive and thrive in the wild. This winter will mark the first opportunity for both of these lucky pairs to breed.
You can read more about the two Mexican wolf pairs and see pictures at the Wolf Conservation Center website!
Click here to learn how you can help increase the health of the wild population of Mexican wolves by helping more captive wolves be released.
Photo credit: Mexican gray wolves in captivity, courtesy of Jean Ossorio.