Blog: Struggle To Save The Mexican Wolf Continues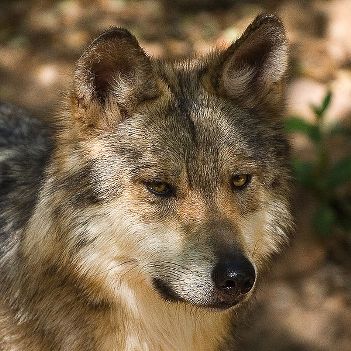 During the early history of North America, with the coming of European settlers, people introduced sheep and cattle into the native habitat of Mexican wolves in the Southwest U.S. and northern Mexico. This introduced livestock displaced some of the wolves' natural food sources. Government trappers then systematically trapped and killed the wolves to extinction in the wild.
Predators like the wolf provide important ecological services in helping to control prey species like deer. If deer become too numerous, they can prevent the growth of certain plants. These plants, if not allowed to grow, can affect nesting sites for birds and food that other animals need to survive. Yellowstone National Park illustrates a great example of this ecological service where the return of wolves to the park has helped to restore willow trees and beaver in the Lamar Valley.
Nearly thirty-five years have passed since I first came face to face with the legendary lobo or Mexican wolf during the summer of 1978. I was working at Big Bend National Park and had driven the 100 miles to Alpine, Texas on my monthly grocery shopping trip. Friends of mine, Roy and Jere McBride had invited me to stop by and see one of the wolves Roy had captured in Mexico. I remember being surprised in learning that wolves still survived in northern Mexico and not far from my Chisos Mountains home in Big Bend. Like many Americans today, I had never heard of a Mexican wolf.
Roy was a well known mountain lion trapper who was under contract with the U.S. Fish and Wildlife Service (USFWS) to live capture endangered Mexican wolves for a new U.S./Mexico captive breeding program. He had been making trips into the Sierra Madre of northwest Mexico for years; many of them wolf trapping ventures for ranchers wanting to kill off wolves interfering with cattle operations.
In March 1980, Roy completed a status and distribution report on Mexican wolf for the USFWS. The illustrated report summarized over twenty years of his wolf hunting trips, mainly in the Mexican states of Chihuahua and Durango. On one such trip Roy went after Las Margaritas, a famous Durango wolf with two toes missing from the center of his left front foot. Las Margaritas roamed over a large territory along the Zacatecas-Durango border, killing steers and avoiding all efforts, Roy finally caught Margaritas with a steel trap on March 15, 1971.
If anyone knew where to find wolves in Mexico and how to capture them, Roy was the man. It was ironic that after playing a small part in helping to bring the species to the brink of extinction, he was now being asked to help save it.
At McBride's ranch one of the last wild endangered Mexican wolves known to science glared at me from inside a large enclosure. I can still picture its shaggy gray-and-rust- colored coat and how out of place it looked from behind the wire fence. A three-minute 8mm movie film that I have posted on YouTube refreshes my memory of that haunting day. When I checked the video recently there were over 56,000 views.
It saddened me to think that to save the species we had to capture the last known survivors. That day finally came on January 27, 1998 when I was able to join the Interior Secretary Bruce Babbitt and others in witnessing the first of eleven Mexican wolves being transferred into acclimation holding pens. We gathered in a forest clearing in the Blue River Range of eastern Arizona. There was snow on the ground and about four dozen witnesses including members of the media.
Two months later on March 28 the gates to the holding pens were opened and eleven captive-reared Mexican wolves returned to the wild. Over the past twelve years the initial release of three adult males, three adult females, three female pups and yearlings and two male pups has resulted in a wild population of less than 60 wolves. The goal for the wild population is 100 wolves. Since 1998 there have been many set backs to the program. These setbacks include artificial boundaries as to places where wolves can be released and others that prohibit them from living in certain places at all. There have also been political disputes about the program overall involving the states of New Mexico and Arizona and the Federal Government. On top of those disputes the US Fish and Wildlife Service has been unable to protect many wild wolves that have been illegally shot by poachers. Since 1998 over 35 wolves have been killed by poachers with only two prosecutions.
Two female Mexican wolves currently live at the El Paso Zoo. They are managed as part of the Association of Zoos and Aquariums Species Survival Plan effort to help save the species.
The Zoo's Animal Curator, John Kiseda, serves as Vice Coordinator of the Mexican Wolf Species Survival Plan (SSP). Last summer he attended the 2012 Mexican Wolf SSP Annual Meeting and Reunion Binacional sobre el Lobo Mexicano hosted by Wolf Haven International in Olympia, Washington. The Mexican Wolf SSP supports "the reestablishment of the Mexican wolf in the wild through captive breeding, public education, and research." The captive population managed by the SSP is the only source of wolves used in the reestablishment project currently underway in the Blue Range Wolf recovery Area of East-central Arizona and West-central New Mexico.
The conservation of our planet's precious wildlife and wild areas is a very important part of the mission of the El Paso Zoo. We are actively involved with a number of researchers and conservation related organizations who are all dedicated to various conservation projects around the world.
The El Paso Zoo's Conservation Fund was established by the El Paso Zoological Society in 2001 and has helped provide support to many local, regional and international conservation and conservation education projects including support for the Mexican Wolf Conservation Fund. This fund is used to hire a range rider who helps to monitor the Blue Stem Pack in Arizona. If livestock are seen near the wolf pack the range rider will help to keep them away.
The El Paso Zoo Conservation Committee has been working with Zoo staff and the El Paso Zoological Society in raising the bar in helping the Zoo reach a higher level in its overall conservation efforts. Support of In-situ research and conservation efforts has increased dramatically over the past 4 years. In partnership with the El Paso Zoological Society, over $35,000 was provided for conservation program support and research, locally and globally. These funds helped endangered Mexican wolves, Asian elephants in Sumatra, Great Apes in Africa and Asia, endangered bolson tortoises, jaguars and black-footed ferrets in North America.
This article appeared on

visitelpaso.com

on February 6, 2013.
Photo credit: C. Morrison