Animal rights activists file suit against State Game Commission over cougar traps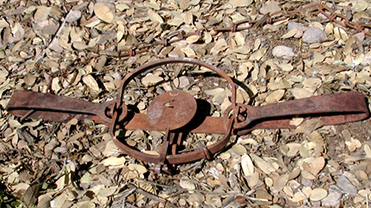 A pair of Las Cruces activists, The Humane Society of the United States and Animal Protection of New Mexico, have filed a lawsuit against the State Game Commission, claiming a new rule allowing cougar traps on private and state trust lands will have fatal effects on the state's threatened Mexican gray wolf and jaguar populations.
The lawsuit says "deadly leg-hold traps" set for cougars could snare wolves and jaguars, both protected under the federal Endangered Species Act, as well as female cougars with kittens, which are protected under state law.
There are an estimated 97 Mexican wolves in the wild in Arizona and New Mexico, officials have said, despite a federal program to recover the species. Jaguars — the largest cat species native to the Western Hemisphere — are far more rare in the U.S., after being driven to the brink of extinction by "human-caused factors like poaching and trapping," the lawsuit says. It also names the state Game and Fish Department as a defendant.
Humane Society attorney Nicholas Arrivo, in a phone interview Tuesday, said the trapping program presents "a pretty unjustifiable risk to nontarget animals."
Mexican wolves, jaguars and cougars share overlapping territory in New Mexico, Arrivo said. "Traps that are set for cougars are not intelligent. They are indiscriminate machines that will snap shut on any animal unfortunate enough to cross its path," he said. He likened traps to land mines, saying both are "brutal, unnecessary and indiscriminate as to what they take."
The State Game Commission could not be reached for comment on the case.
Lance Cherry, a spokesman for the state Game and Fish Department, said in an emailed statement Tuesday that the suit "is only a distraction; the rule was crafted after nearly a yearlong process of public and scientific scrutiny, including consideration of potential impacts on endangered species. The Department will vigorously defend the rule, which is part of a world-class effort to manage New Mexico's wildlife."
The State Game Commission reviews the rules for hunting and trapping bears and cougars every four years. In 2015, the panel held five public meetings on the topic before approving changes in August that cleared the way for "sport harvest" trapping of cougars on private and state trust lands between Nov. 1 and March 31 without a special permit. The new rule also doubled the number of cougars a hunter or trapper can take in some areas, increasing the kill limit in those lands to four from two.
Representatives of the New Mexico Council of Outfitters and Guides, the New Mexico Trappers Association and the New Mexico Cattle Growers' Association spoke in favor of the proposed changes at a hearing in August.
But numerous other residents spoke in opposition, including Animal Protection of New Mexico's wildlife campaign manager, Phil Carter. He cited a 2015 poll of 1,000 New Mexico voters, saying that "across the board" those surveyed opposed the changes — and trapping in general — by a 3-to-1 margin.
"That is consistent across every congressional district in the state and every political party," Carter said at the hearing.
Retired elementary school teacher Jean Ossorio and her husband, Peter Ossorio of Las Cruces, have signed on to the suit as plaintiffs. They've been Mexican wolf advocates for more than 20 years and have volunteered for many federal wolf recovery efforts, along with outreach and education activities.
According to the complaint, Jean Ossorio has attended "virtually every state and federal public meeting pertaining to Mexico wolf recovery" since 1998.
The couple could not be reached for comment.
Carter, at the August hearing, accused the State Game Commission of using outdated data to draw its conclusions about cougar populations.
"This is not about sportsmanship," he said. "This is about killing."
~~~~~~~~~~~~~~
Write a letter to the editor today to stop trapping of wildlife.
The letters to the editor page is one of the most widely read, influential parts of the newspaper. One letter from you can reach thousands of people and will also likely be read by decision-makers.  Tips for writing your letter are below, but please write in your own words, from your own experience.  Don't try to include all the talking points in your letter.
This story was covered by several news sources.  
See below for links and contacts for letter submissions.
Letter Writing Tips & Talking Points
Less than 100 Mexican wolves remain in the wild.  With a population this small, every individual wolf is essential.
New Mexico permits trapping in the Mexican gray wolf recovery area, but the Endangered Species Act prohibits trapping of protected species.  As an Endangered Species, Mexican gray wolves should not be subjected to trapping.
Cruel, indiscriminate traps set in the Mexican gray wolf recovery area have harmed over a dozen wolves. Traps have injured or killed 14 Mexican gray wolves (in 15 separate incidents) since 2002. Two wolves died. Two had entire limbs amputated. One endured a partial foot amputation.
Leg hold traps pose a significant risk to endangered Mexican Gray wolves, pets, and the Public.
Leg hold traps are inhumane and have been banned in 80 Counties and several states, including Arizona.
Wolves are magnificent creatures that keep watersheds and ecosystems healthy.  The reintroduction of wolves into Yellowstone has been a boon to the environment there.
Biologists know that once they are fully restored, Mexican wolves will improve the overall health of southwest ecosystems.
Wolves are native to New Mexico and inhabited most of the state prior to aggressive extermination the last century.
We have a moral, economic and scientific responsibility to restore endangered species like the Mexican gray wolf.
Make sure you:
Thank the paper for publishing the article.
Submit your letter as soon as possible. The chance of your letter being published declines after a day or two since the article was published.
Do not repeat any negative messages from the article, such as "so and so said that wolves kill too many cows, but"¦"  Remember that those reading your letter will not be looking at the article it responds to, so this is an opportunity to get out positive messages about wolf recovery rather than to argue with the original article.
Keep your letter brief, between 150-350 words.
Include something about who you are and why you care: E.g. "I am a mother, outdoors person, teacher, business owner, scientific, religious, etc."
WHERE TO SUBMIT YOUR LETTER:
Submit your letters to the editor HERE.
Thank you for speaking for wolves and wildlife!