Action Item: Be a Champion for Conservation!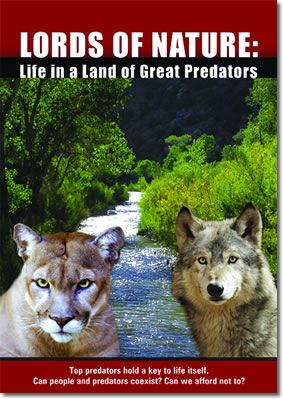 Top predators, like Mexican gray wolves, are beautiful animals that play a vital role in keeping the balance of nature. They are also one of North America's most imperiled creatures.
LORDS OF NATURE: Life in a Land of Great Predators tells the story of a science now discovering top carnivores as revitalizing forces of nature, and of a society now learning tolerance for beasts they once banished.
Lords of Nature traces the path of legendary naturalist and writer, Aldo Leopold. What Leopold warned seventy years ago, scientists from around the world now confirm: That a land lacking its top predators is a land subject to decay. And vice versa a land with the great beasts in sufficient numbers is a land far more diverse and resilient.  . Narrated by Peter Coyote, this 60 minute documentary goes behind the scenes with leading scientists to explore the role top predators play in restoring and maintaining ecosystems and biodiversity.  (
www.lordsofnature.org
)
Be a champion for conservation!  –  Host a Home Screening of Lords of Nature.
Help protect wolves and other top predators by hosting a home screening of Lords of Nature: Life in a Land of Great Predators.
In 3 simple steps, you can organize your own Lords of Nature Evening of Action:
2.  Invite family, friends, co-workers, and neighbors to your home for a screening of the film.
"Never doubt that a small group of thoughtful, commited citizens can change the world.  Indeed, it is the only thing that ever has." -Margaret Mead