Action Alert: Alpine Meeting Thursday, November 17 to Address Mexican Wolf Releases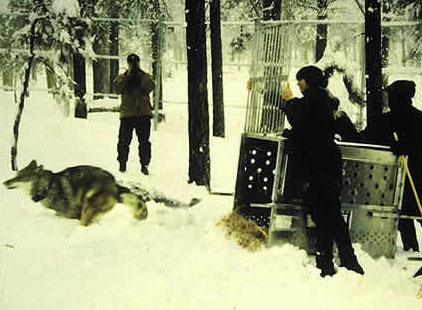 We just got last minute notice from a wolf supporter that Arizona Game and Fish is hosting a meeting on Thursday concerning the release of more Mexican wolves into Arizona. More wolves are desperately needed to increase the numbers and genetic health of the wild Mexican wolf population.
The public meeting hosted by AZ Game and Fish Department meets this Thursday, November 17, at 6:00 pm at the Alpine Community Center: 12 County Road 2061 Alpine, AZ. 85920 Phone: 928-339-4330.
At the last meeting on this issue, shortly before the Wallow Fire changed everything, few people attended.  Most of those in attendance were anti-wolf and very vocal in their opposition of any initial release or translocation.  As a result the majority of the comments recorded by AZ Game and Fish were anti-wolf and anti-release.
Large predators such as wolves and mountain lions are critical to healthy ecosystems.  With only around 55 wolves in the wild, Mexican gray wolves are one of the most endangered mammals on the planet.   The Yellowstone story illustrates just how important wolves are to the health of our ecosystems.
There are many wolves in captive facilities that could increase the wild population, but no new wolf packs have been released into the wild since November, 2008.  Meanwhile, members of the wild population have no mates or pups due to the small number of available wolves.
Please, if you possibly can, show up and speak up for the health of our lands and wildlife.
If you can't make the meeting, please send an email to Benjamin Tuggle, the Southwest Regional Director for the US Fish and Wildlife Service, the agency responsible for recovering Mexican wolves, and copy your message to AZGFD Director, Larry Voyles.
* Tell Dr. Tuggle that you strongly support more Mexican wolf releases.

* You can also tell him that USFWS is the agency responsible under the law for the recovery of the Mexican gray wolf.

* It is inappropriate for AZGFD to hold meetings on critically important wolf releases without notifying the entire public, not just a few people in Apache and Greenlee Counties.

* If AZGFD doesn't hold meetings open to all, with proper notification, the USFWS should do so.

* Meetings should be held in places more centrally located and publicized on USFWS websites and through the media—with proper advance notice.
Thank you for all you do for Mexican gray wolves! Please let us know if you sent an email or attended the meeting: info@mexicanwolves.org